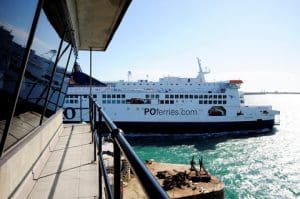 More than 225, 000 passengers are expected to pass through the Port of Dover for the start of this year's Easter getaway – making Dover the gateway of choice to mainland Europe.
Over the Easter period from Good Friday through to Easter Monday, the Port will welcome around 40, 000 cars and 2, 000 coaches as they take a convenient ferry to access the motorways of France,  Belgium and the Netherlands for that special holiday break. It will not only be day trippers taking advantage of the shortest route between the UK and France, but also families heading out across Europe even as a far as Italy and Spain for sun, sea and shopping.
The cross-Channel route has fewer restrictions than any other form of transport with the benefit of taking your vehicle from Dover to either Calais or Dunkirk in order to relax and enjoy the local treats of northern France,  explore historic towns in Belgium or simply head further east and south to the attractions of Germany or even the French Riviera.
The great advantage of choosing from the excellent choice of frequent ferry services from the Port of Dover is that you do not have to suffer the pain of excess baggage charges and can bring back those holiday souvenirs with peace of mind. Add to this the comfortable 90 minute sea journey with a range of food and drinks on board and a place to rest and it is hard not to think of a reason to use a ferry from Dover to get into the heart of Europe.
Barbara Buczek, General Manager – Business Development,  Port of Dover, says: "This Easter,  Dover ferry passengers will find a quality service and a dedicated team creating the perfect start to their Easter holidays. Dover offers customers a flexible and convenient way of crossing the Channel and is well placed for those travelling to Northern France,  Belgium,  Holland and beyond. Customers can rest assured that the Port of Dover will be working hard with its ferry partners to keep the Port and its customers moving into Easter."
The Port handles 13 million passengers, 2.4 million freight vehicles and £100 billion of UK/European trade.
Customers are advised to contact their chosen ferry operator before travelling and consult the Port of Dover website for the latest information.