HUNDREDS FLOCK TO ESSEX EVENT TO LEARN MORE ABOUT MARITIME CAREER OPPORTUNITIES ON ONE OF THE UK'S BIGGEST ENGINEERING PROJECTS
More than 620 people attended an event at the London Cruise Terminal at Tilbury keen to learn more about exciting career opportunities in the maritime industry linked to the £4.2bn Thames Tideway Tunnel project.
Some 460 registered their interest to work on the Thames Tideway Tunnel and pursue a long-term career in the maritime sector, while the organisers believe many more people who were unable to attend went online to register their interest at www.jobsinmaritime.com
The tunnel – dubbed super sewer – will upgrade London's antiquated sewerage system, creating thousands of jobs and hundreds of apprenticeships. The project is searching for the next generation of maritime workers to support the construction and to build their maritime careers.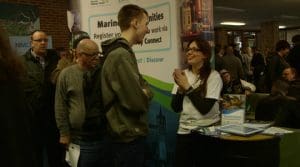 Jobs in Maritime, the chosen partner of Thames Tideway Tunnel, is inviting anyone interested in a maritime career to attend a series of Connect events where they can learn more about the super sewer project, meet some of the people involved, find out about job roles and register their interest in job opportunities when construction starts. The Tilbury event was the second to be organised.
Peter Green, Chief Executive of Jobs in Maritime, says: "Tilbury was a huge success and attracted people from a variety of backgrounds, including those who already work in the port, fishermen from Southend, people from Lowestoft who work in the offshore renewables sector plus college students and jobseekers recommended to us by Jobcentre Plus.
"We have received very positive feedback from these visitors and also from the maritime businesses who were here to promote the career opportunities that the Thames Tideway Tunnel project will offer and to encourage a new generation of people to start a sustainable seagoing or shore-side career."
Peter adds: "It's never too late to consider a career in the maritime sector so even if you are in employment at the moment, perhaps bored with your 9 to 5 office routine and looking for an exciting career change, I'd urge you to find out more about these new opportunities."
Enabling works begin on the Thames Tideway Tunnel in 2015 and construction begins in 2016 at more than 11 sites along the river. Over the eight-year construction period, the project will create thousands of jobs. Beyond 2023, the project will create a lasting legacy that is about more than just a cleaner river. It will ensure the continuity of employment and skills development within theUK maritime sector, helping individuals to develop long-term careers within the industry.
Future Thames Tideway Connect events will be held at:
30 April:           University of Greenwich,  Greenwich Maritime,  London
28 May:           Harwich, Essex (venue tba)
To find out more about these events, visit www.jobsinmaritime.com
For details about the Thames Tideway Tunnel Project visit www.thamestidewaytunnel.co.uk
·         The River Thames and the Channel is the largest maritime 'cluster' in the UK, representing more than 4, 000 businesses, employing 210, 000 people and generating £5bn of GDP.  Maritime industries on the River Thames contribute £3.7bn pa to the UK economy and employ 46, 375 people.
·         The Thames Tideway Tunnel is a new sewer, urgently needed to protect the River Thames from increasing pollution. London's sewerage system is no longer fit for purpose and spills millions of tonnes of sewage into the river every year. The project will tackle the problem of overflows from the capital's Victorian sewers for at least the next 100 years and will enable the UK to meet European environmental standards. The project will create more than 4, 300 direct jobs and a similar number in the supply chain. It is expected that at least 4.2 million tonnes of excavated material will be transported by barges or ships along the River Thames. This is a 30% increase to the existing river traffic and will require expert skills.
·         Jobs in Maritime is the global job site and recruitment service of the National Maritime Development Group (NMDG), the UK maritime network for industries influenced by sea and waterways. Jobs In Maritime is a unique job-site and recruitment service for jobseekers and employers, focused 100% on land and sea jobs created by maritime industries, to help drive forward economic growth and prosperity. Key sectors include international shipping, port operations and business services, marine engineering, renewable, fisheries, heritage, offshore oil, leisure and water-sports.