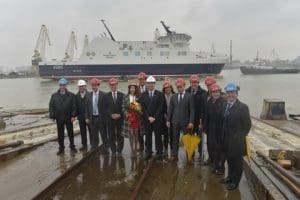 Damen Shipyards Galaţiin Romania recently launched the MV Veteran, an 80-metre ice class Ro-Pax ferry. The vessel represents the first of a two-vessel contract, with a design stemming from a Canadian-Danish partnership between Fleetway and Knud E. Hansen.
"We are working very hard to deliver these ferrieson schedule and on budget, " says Damen Manager North America Jan van Hogerwou. The first vessel is scheduled for delivery to the province in the fall of this year and in early 2016. Both ferries will be able to transport up to 60 cars and 200 passengers.
The launch coincides with Damen taking a step further towards setting up a Damen certified service and
maintenance centre in St. John's – the capital of the Newfoundland and Labrador region. "We are currently in conversation with a number of potential local service partners and we foresee entering into partnership with one of two of them, " continues Mr Hogerwou. "This represents a commitment to the Canadian market, which, ultimately, should pave the way towards local economic benefits and future construction opportunities."
Further boosting its role in Canada's maritime employment sector, Damen also recently attended student career days at the Newfoundland and Labrador-based Memorial University.
"Jo"