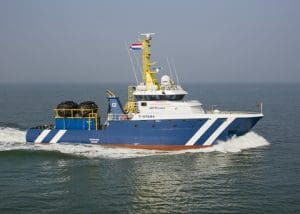 35-metre offshore chaser is last in series of three identical vessels
This afternoon, in the sunny and festive Dutch harbour town of Scheveningen, Maaskant Shipyards Stellendam concluded a productive chapter in its history with the delivery of the 7-Stars to offshore support service provider Rederij Groen.
The 7-Stars will join RederijGroen's fleet of almost 30 vessels, which notably includes sister vessels of the same series 7-Oceans and 7-Seas. The three vessels, designed in close cooperation with both Rederij Groen and their customer, mark a milestone in Offshore Support Vessel construction.
The two companies have a relationship that stretches back more than a decade – in fact all of RederijGroen's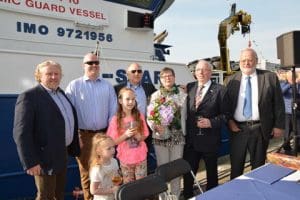 five Seismic Research Support vessels have been built at Maaskant, which is part of the Damen Shipyards Group. "This really is a proud day for all the team at Maaskant, " commented Maaskant Shipyards Director Frits van Dongen at the ceremony. "And of course we look forward to maintaining and servicing RederijGroen's fleet in the future."
Damen Shipyards Group
Damen Shipyards Group operates 32 shipbuilding and repair yards, employing 9, 000 people worldwide. Damen has delivered more than 5, 000 vessels in more than 100 countries and delivers some 160 vessels annually to customers worldwide. Based on its unique, standardised ship-design concept Damen is able to guarantee consistent quality.
Damen's focus on standardisation, modular construction and keeping vessels in stock leads to short delivery times, low 'total cost of ownership', high resale values and reliable performance. Furthermore, Damen vessels are based on thorough R&D and proven technology.
Damen offers a wide range of products, including tugs, workboats, naval and patrol vessels, high speed craft, cargo vessels, dredgers, vessels for the offshore industry, ferries, pontoons and superyachts.
For nearly all vessel types Damen offers a broad range of services, including maintenance, spare parts delivery, training and the transfer of (shipbuilding) know-how. Damen also offers a variety of marine components, such as nozzles, rudders, anchors, anchor chains and steel works.
In addition to ship design and shipbuilding, Damen Shiprepair & Conversion has a worldwide network of 15 repair and conversion yards with dry docks ranging up to 420 x 80 metres. Conversion projects range from adapting vessels to today's requirements and regulations to the complete conversion of large offshore structures. DSC completes around 1, 500 repair and maintenance jobs annually.
 "Jo"