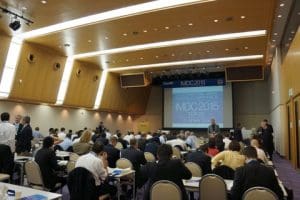 The 12th International Marine Design Conference (IMDC) was held in Tokyo this week from 11 – 14 May, hosted by The Japan Society of Naval Architects and Ocean Engineers, and sponsored by The Shipbuilders' Association of Japan and ClassNK.
IMDC is an esteemed global academic conference for the design of marine systems including ships. Since its inception in the U.K. in 1982, it has taken place every three years with this week's conference marking its 12th conference. This is the second time the IMDC has been held in Japan; it took place in Kobe in 1991 for its 4th conference.
Roughly 170 participants from universities, research institutes, shipyards, and design companies from across the globe gathered at the 12th IMDC. The 4-day conference focused on what technical design areas will be the key for the future of maritime systems through nine keynote speeches and 87 general papers.
The University of Tokyo's Executive Vice President, Professor, Hiroyuki Yamato (President of the Japan Society of Naval Architects and Ocean Engineers) represented the hosts and spoke on the event's success stating: "This conference fulfils an important function within the global maritime community. It breaks boundaries, providing a bridge between academy and industry, and acts as the network through which professionals from every corner of the globe can meet and exchange ideas."
Meanwhile, IMDC International Committee Chairman, Professor Apostolos Papanikolaou of the National Technical University of Athens thanked Japan for its warm hospitality and enthusiasm toward Industry-Academia collaboration.
ClassNK Executive Vice President Yasushi Nakamura delivered the keynote speech at the Opening Ceremony and spoke at the Conference Dinner saying: "At ClassNK, our R&D activities provide the Industry-Academia platform to support the continuous development of our industry and we are honored to have joined forces with IMDC on this occasion."