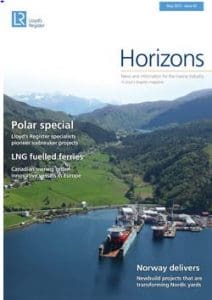 The building of a series of powerful polar icebreakers, the growth of a cutting-edge enterprise zone in Norway and LR's role in the classing and approving of two innovative LNG-fuelled ferries for Canada. These are just three of the highlights of the May 2015 issue of Horizons, Lloyd's Register's marine magazine.
Specially produced for Norway's leading exhibition and conference, Nor-Shipping 2015, the magazine features two 'firsts' – the world's first methanol-powered ferry and a Finnish icebreaker that is the first-ever to be fuelled by LNG.
We've a 10-page polar special on the burgeoning industries of the Arctic and Antarctic with an eye-catching infographic that pinpoints a trans-continental range of global icebreaker projects LR is involved with in shipyards stretching from Vancouver to South Korea.
The magazine includes a four-page section on Norwegian enterprise and LR's growing network of Nordic clients and Norway-based shipbuilding projects – and so an ideal introduction to Nor-Shipping from 2 to 5 June.
You can also read about the pioneering projects LR has worked on with BP Shipping (BPS) and the cruise ship operator Cunard. Both companies are celebrating anniversaries – 100 years for BPS and 175 for Cunard – and in the May issue we recount the key moments in these two companies' extraordinary histories.
A PDF of the magazine can be downloaded now at www.lr.org/horizons. Hard copies can be requested from the editor Christopher Browne at chris.browne@lr.org.
Lloyd's Register (LR) is a global engineering, technical and business services organisation wholly owned by the Lloyd's Register Foundation, a UK charity dedicated to research and education in science and engineering. Founded in 1760 as a marine classification society, LR now operates across many industry sectors, with over 9, 000 employees in 78 countries.LR has a long-standing reputation for integrity, impartiality and technical excellence. Its compliance, risk and technical consultancy services give clients confidence that their assets and businesses are safe, sustainable and dependable. Through our global technology centres and research network, LR is at the forefront of understanding the application of new science and technology to future-proof our clients' businesses.
Group Services Limited (Reg. no. 6193893) is a limited company registered in England and Wales. Registered office: 71 Fenchurch Street, London, EC3M 4BS, UK. A member of the Lloyd's Register group.