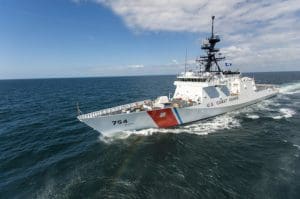 EVENDALE, Ohio (May 28, 2015) – GE Marine reports that its LM2500 gas turbine will power the United States Coast Guard's eighth National Security Cutter Midgett (WMSL 757). The ship will be powered by one GE LM2500 gas turbine and two diesel engines in a Combined Diesel And Gas turbine (CODAG) propulsion system.
All eight ships in the U.S. Coast Guard's Legend-class cutter program feature the same LM2500-based CODAG propulsion arrangement. Similar to its sister NSCs, Huntington Ingalls Industries' Ingalls Shipbuilding division will construct the 418-foot-long Midgett at its Pascagoula, Mississippi, shipyard.
According to a recent U.S. Coast Guard announcement, four NSCs Bertholf, Waesche, Stratton and Hamilton, are fully operational and executing Coast Guard missions in the field. The fifth James, is scheduled for delivery and commissioning in 2015. The sixth cutter, Munro is expected to be delivered in 2016. Fabrication of the seventh NSC, Kimball, began earlier this year and delivery is scheduled for 2018.
All the LM2500 gas turbines for the NSC program were manufactured at GE's Evendale, Ohio, facility.
"Jo"