Maritime Craft Services (Clyde) Ltd has taken delivery of its first Damen Multi Cat 3013. Based in Fairlie, Ayrshire, the Scottish company is one of the largest operators of Damen vessels in the world, with 14 in its fleet.
This order also represents an important milestone for Damen as it is the first vessel to be built at Damen Shipyards Sharjah, which opened in 2014.
Managing Director of Maritime Craft Services, Menno Kuyt, comments: "This latest vessel fills a gap in our fleet, we were looking for a larger vessel, particularly with more crane capacity for dredging support work and Damen can make this happen very quickly!" MCS ordered the Damen Multi Cat 3013, now named MCS ELLY II on April 28 and it was delivered on May 27, less than a month later.
The Damen Multi Cat 3013 includes two HeilaHLRM 340 cranes, which each have a 33 tonne capacity over 9.4 m. Coupled with this, the vessel has a very spacious, unobstructed deck, says MrKuyt.
"We have a fantastic relationship with Damen, which dates back a long time, " stresses MrKuyt. Menno's father founded MCS nearly 40 years ago and the first vessel purchased was a Damen Stan Tug 1. The former MCS ELLY was a Damen Dredgehelper 2510.
'MCS ELLY II' will be going straight to work in the Middle East on a major dredging project.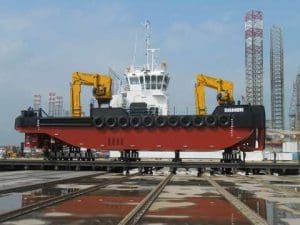 Jos van Woerkum, Managing Director of Damen Shipyards Hardinxveld, says: "We were pleased that we could build this vessel on the spot for MCS as it will be directly deployed in the region, saving the company mobilisation costs."
The Damen Multi Cat 3013 is very flexible for a variety of tasks, he emphasises. "It is powerful and this is combined with a shallow draft and substantial crane capacity."
Damen Shipyards Hardinxveld has built several vessels for MCS. In March 2014 the shipyard delivered the 'MCS Rosie', the sixth vessel built by the yard. Damen Shipyards Hardinxveld has also built three Shoalbusters 2609, a Shoalbuster 2709 and a Multi Cat 2611 for MCS. "We have a very close cooperation based on trust, " adds Mr van Woerkum.
More about the Damen Multi Cat 3013
Classed by Bureau Veritas, the vessel is suited for anchor handling, dredger support activities, supply, towing, hose and buoy handling, survey work and pushing/pulling pontoons. Although ideal for coastal and harbour work, she can also take on a seagoing role.
At 30.14 m, the Damen Multi Cat 3013 has two Kraaijeveld winches, one for anchor handling (150-tonne capacity) and a 40-tonne towing winch. The vessel has a shallow, 2.6 m draft.
It is a powerful vessel with 3x Caterpillar C32 TTA main engines, which enables the vessel to achieve 37.8 tonnes bollard pull and speeds of 10.6 knots. It can comfortably accommodate a crew of seven.
Built for stock
The MCS vessel is the third Damen Multi Cat 3013 that has been sold and Damen is also building them for stock, with one available in the next few weeks.
Maritime Craft Services (Clyde) Ltd
MCS was formed in 1977 as owners and operators of tugs and workboats primarily providing support vessels for dredging and marine construction projects throughout the UK, NW Europe and worldwide.
All 23 of their vessels are fully classed with an average age of under five years old, and the highly experienced and motivated crew are STCW certified.
The company is ISO 9001: 2008, 14001, and OHSAS 18001 certified and offer an effective and efficient shore side support team, including 24/7 Director level contact.
Damen Shipyards Group
Damen Shipyards Group operates 32 shipbuilding and repair yards, employing 9, 000 people worldwide. Damen has delivered more than 5, 000 vessels in more than 100 countries and delivers some 160 vessels annually to customers worldwide. Based on its unique, standardised ship-design concept Damen is able to guarantee consistent quality.
Damen's focus on standardisation, modular construction and keeping vessels in stock leads to short delivery times, low 'total cost of ownership', high resale values and reliable performance. Furthermore, Damen vessels are based on thorough R&D and proven technology.
Damen offers a wide range of products, including tugs, workboats, naval and patrol vessels, high speed craft, cargo vessels, dredgers, vessels for the offshore industry, ferries, pontoons and superyachts.
For nearly all vessel types Damen offers a broad range of services, including maintenance, spare parts delivery, training and the transfer of (shipbuilding) know-how. Damen also offers a variety of marine components, such as nozzles, rudders, anchors, anchor chains and steel works.
In addition to ship design and shipbuilding, Damen Shiprepair & Conversion has a worldwide network of 15 repair and conversion yards with dry docks ranging up to 420 x 80 metres. Conversion projects range from adapting vessels to today's requirements and regulations to the complete conversion of large offshore structures. DSC completes around 1, 500 repair and maintenance jobs annually.
"Jo"