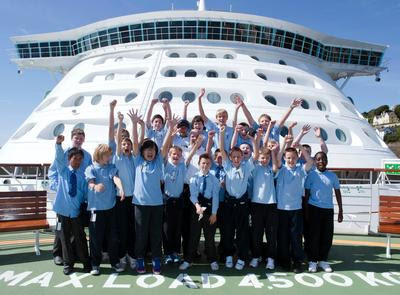 In exactly one month, project submissions for the ESPO Award should reach the ESPO secretariat. This year, the 7th ESPO Award on Societal Integration of Ports focuses on Relationship with Schools and Universities and addresses projects that seek to constructively engage local schools and universities with the work of the port for the benefit of the wider community.
If your port has a project or developed a strategy that involves local academic institutions in raising awareness for your activities, then you could be in line for the ESPO Award and have the chance to make your project known internationally.
The Award will be handed out to the port that demonstrates the best strategies in making schools and universities aware of their local port and its activities. The winning project will be one that succeeds in creating the interest of the local schools and universities in the work of the port and stimulate these institutions to work and/or do research on subjects of interest to ports. The winning project should make young people knowledgeable of the port industry and excite them about entering into a career in the port at all levels. This should also be leading to a better understanding of the port within its community.
Project submissions should reach the ESPO secretariat by 1 July 2015 at the latest.
The winner of the seventh ESPO Award will be announced during the Award Ceremony and Port Night taking place on 10 November in Brussels. The shortlisted projects will be presented on the ESPO website in the running up to the ceremony.
The ESPO Award was established in 2009 to promote innovative projects of port authorities that improve societal integration of ports, especially with the city or wider community in which they are located. In this way, the Award aims to stimulate the sustainable development of European ports and their cities.
Previous winners of the Award are the Port of Gijón (2009), the Port of Helsinki (2010), the Ports of Stockholm (2011), the Port of Genoa (2012), the Port of Antwerp (2013) and the Port of Koper (2014).
If you wish to apply, you should read the terms of reference and complete the application form.