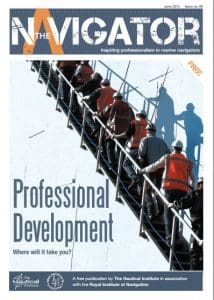 The importance of professional development and lifelong learning, whether in a formal training environment or as part of day-to-day tasks at sea, is the subject of the latest edition of the free, award-winning magazine, The Navigator, from The Nautical Institute.
Articles in the issue include an analysis of The Nautical Institute's own Continuing Professional Development process, a Captain's experiences of lifelong learning and a discussion on the role that professional bodies can play in helping mariners to develop their skills and career opportunities. The popular letters page offers insight into a number of maritime issues from readers of the magazine.
Editor of The Navigator, Emma Ward, said: "We want to get the message across that professional development doesn't just take place in the classroom. There are so many opportunities to increase knowledge and experience. All it takes is a willingness to seek them out and make the most of them for the benefit of the individuals and everyone they work with."
David Patraiko, Director of Projects for The Nautical Institute, added: "Things are changing fast. New technology is developed, new ports are visited. Existing skills can fade if not practised regularly. Professional navigators, which we should all be, care about professional development. It gives us pride, keeps us from being criticised and can prevent accidents, save lives and even keep us out of jail.
The Navigator is produced by The Nautical Institute with support from the Royal Institute of Navigation. It is available free in printed format or as a pdf, digital magazine or App on The Nautical Institute website.
The Nautical Institute was named winner of the 2015 Seatrade Investment in People Award in May for publishing The Navigator. This award recognised the work undertaken by an army of volunteers who distribute the magazine to SOLAS vessels around the world. These include surveyors, agents, pilots and others visiting vessels, missions, training centres and ship operators. These distributors are professionals who invest their time and effort to advance the professional development of others.
The Navigator Distributor scheme was launched last year with the aim of getting a printed copy of the magazine on to every SOLAS ship. If you want your organisation to take part, visit http://www.nautinst.org/thenavigator
The Nautical Institute is the international professional body for qualified seafarers and others with an interest in nautical matters. It provides a wide range of services to enhance the professional standing and knowledge of members who are drawn from all sectors of the maritime world. Founded in 1972, it has over 40 branches world-wide and some 7, 000 members in over 120 countries.