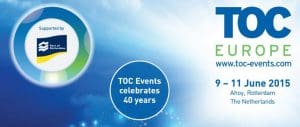 Container vessels of 20, 000+ TEU might not be far away, the Container Supply Chain conference at TOC Europe is told
London,  10.06.2015 – Following the recent order by Maersk Line of eleven 19, 630 TEU vessels, it appears that plans are already under way for the next stage in container vessel size, delegates to TOC Europe 2015 heard today in Rotterdam.
Speaking at the Container Supply Chain conference session Carrier Strategies, Cost vs Value & The Supply Chain Impact, Andrew Penfold, project director at Ocean Shipping Consultants, told delegates that designs for vessels in excess of 20, 000 TEU had become quite advanced.
"We have been working closely with (ship classification society) Lloyd's Register and can confirm that there is no technical reason why ships cannot go above 20, 000 TEU – and we have had very serious discussions about vessels of 22, 000 TEU.
"After that, there may be a pause in ordering greater vessel sizes, although I would imagine it will ultimately resume again, " Mr. Penfold said.
Maersk Line's head of network and procurement in north Europe, Hans Augusteijn, said the dimensions of the recent Maersk order were due to the carrier's assessment of where demand and supply on Asia-Europe trades was heading.
"The reason that Maersk Line has decided to order vessels of 19, 630 TEU size is that it was appropriate to keep up with the market growth, " he said. "But we didn't want to go beyond that because we wanted to grow in line with how we expect the trade to grow."
He added that issues with berth productivity at terminals were also a mitigating factor, in that although average berth productivity had increased globally in terms of the gross number of crane moves per hour, these increases had not kept pace with increasing vessel dimensions.
Mr. Penfold added that as had previously been the case, an increase in vessel sizes inevitably led to more containers being exchanged in a single vessel call, and that larger vessels would place even further pressure on terminals.
Looking after shippers
In the afternoon, the discussion moved on to how ocean carriers could better serve their shipper clients.
Filip Degroote, Transportation Director EMEA,  Stanley Black & Decker, unveiled a wish list of things that would help improve his company's supply chain.
"We always seems to discuss (with carriers) port-to-port transit times but never door-to-door transit, " he said. But too much time is lost at both origin and destination, he added.
"Carriers need to create value at origin & destination in the supply chain, (particularly) with support logistics at origin, such as consolidation, " he commented.
Ports, too, had a critical role to play, especially in finding better solutions to speed up the unloading of 20, 000 TEU vessels, he continued. Port authorities perhaps also need to define a new role in making inland logistics processes smoother.
Marking its 40th edition this year, the TOC Europe Conference and Exhibitioncontinues at Ahoy Rotterdam until 11 June 2015.
For more information please visit:
www.tocevents-europe.com