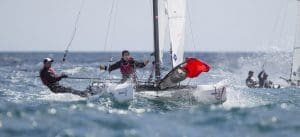 ISAF Sailing World Cup in Weymouth and Portland is the fourth of five stops for the Olympic classes before a World Cup Champion is crowned at the centrepiece Abu Dhabi final in November.
The World Cup of course offers the classes a top competition in different locations around the world, but for the Asian sailors in the Nacra 17 Mixed Multihull it gives a real opportunity to hone their skills in preparation for Rio 2016 qualification.
The new Olympic continental qualification process has presented a real opportunity for Asian sailors to qualify for an Olympic Games in a class which isn't and hasn't always been in the sailing culture of the continent.
Nacra 17 sailors have three opportunities to qualify for one of 20 Rio 2016 spots. The first was at the 2014 ISAF Worlds where 10 spots were taken. A further 3 will be snapped up at the 2015 Nacra 17 Worlds whilst the remaining places will be awarded at regional qualification regattas. This presents a real opportunity for the Asian competitors and the 2015 ISAF Sailing World Cup Qingdao regatta will be their chance to gain a spot on the Rio startline.
The Asian region hopefuls not only face new challenges in a class which isn't often sailed competitively in the region, but also physical challenges to just make the class weight rules at all. Although facing the same challenges for the same place at Rio 2016, the motivations behind racing are very different.
Tat Choi Fung from Hong Kong explains,  "Me and my partner (Yu Ting Chan) like sailing catamaran and when ISAF announced it was adding Nacra to the Olympic classes it worked out well for us, " 
"It was lucky for us, but also unlucky as we didn't make the weight. We thought we could handle the boat but we needed to put on some weight to meet the rule requirements."
"I have put on some weight but my partner hasn't so I am trying to feed him. We are trying to get physically fit without getting fat. I feel as Asians we are strong but compared to Europeans we are still quite weak."
The Hong Kong pair started as a student and teacher relationship. Fung joined the Hong Kong Sailing Centre where Chan was an instructor. They joined together from a love of sailing catamarans specifically when the mixed multihull was announced by ISAF.
Fung admits that the team don't always see eye to eye,  "We argue sometimes on the boat. But we started as teacher and student so it is sometimes hard for the teacher to listen to the student. But now we have hired a coach to help us with this."
Everything the pair does now is focused toward qualification for Rio 2016. They are aware that they have a real chance and are moving forward as fast as they can with limited resources and financial support.
Competing for that place are the Singapore pair of Justin Liu and Denise Lim. They not only challenging for Rio qualification, but also challenging themselves personally as Liu explains,  "We both progressed through different boats and my partner (LIM) did a lot of match racing, " 
"We took the knowledge and sailing experience we had to test a new boat which was interesting and scary. Every day we are learning about the boat." 
Again for the pair, as with the Hong Kong team, resources are hard to come by but they also see a real chance with the new continental qualification system.
Liu said,  "For us, we don't have the budget, but with the new format it really opens up opportunities to come out and race to qualify."
He continues,  "There aren't many Asian teams and all the Asian teams are friends out of the water and share experiences, but when we are on the water we want to win and qualify for the Olympics."
One of those friends and challengers is Japan's Hiroki Goto who sails with partner Wakato Tabata.
Although Goto hopes to qualify, his intentions and drive is to inspire the youth of the country to get out on the water and on the multihull, especially with a home Olympic Games in Tokyo 2020 to aim for.
Goto said,  "There is almost no multihull sailing in Japan whatsoever, " 
"We have a home [Olympic] Games in Tokyo and we need someone there. It would be ideal to get someone in the Games before [in Rio]. I wanted someone to start but no one came forward so I went for it."
He continues,  "I really hope that I can encourage the younger generation to take up multihull. I am 42 and I want to show if I can do it, they can definitely do it."
Goto also appreciates that the new qualification system has really opened the door for the continents that don't sail multihull to progress on a world stage.
He said,  "The change to the qualification is good. It would be so tough otherwise for example Africa and Asia to qualify for the Olympics. And mixed gender is also a good idea."
Despite the competition for the Asian Olympic place in the Nacra 17 class, Goto and the other Asian sailors agree that events like the ISAF Sailing World Cup is the best way for the Asian teams to learn, and learn quickly by racing strong European teams.
Goto is looking forward to competing against more top teams in Asia on the next stop of the World Cup when it heads to Qingdao, China in September. And despite the different reasons of the Asian Nacra 17 sailors for competing in the class, the goal is the same, qualify for the Rio 2016 Olympic Sailing Competition.
Video
Medal Races will be live from ISAF Sailing World Cup Weymouth and Portland on Sunday 14 June from11:00 local time.
URL – https://www.youtube.com/watch?v=XQ8hlJyeqxk
Embed – <iframe width="560″ height="315″ src="https://www.youtube.com/embed/XQ8hlJyeqxk" frameborder="0″ allowfullscreen></iframe>
Daily 3 minute agency news feed will be available. Includes long lens shots, on board action, mounted cameras, commentary and sound on tape.
For further TV news information or interview requests please contact:
Pilar Alberola Albors
M: +44 (0) 7546 830 192
E: palberola@sunsetvineapp.com
Sabina Mollart-Rogerson
M: +44 (0) 7922 140 148
E: smollartrogerson@sunsetvineapp.com
Images
OnEdition will be providing high resolution for editorial use during ISAF Sailing World Cup Weymouth and Portland. Click here to register – http://www.w-w-i.com/isaf_swc/register_terms.php
HOW TO FOLLOW
Live TRACKING
Tracking is available in 2D and 3D so you can follow the action almost as if you were there. Click here to find the tracking links – www.sailing.org/worldcup/multimedia/tracking.php
Live COMPETITION STATUS
Get the low down on the status of all the races. See who's racing, see what course they're sailing and find out the weather info static.sportresult.com/federations/isaf/CompStatusScreen/index.html
Live RADIO
A live radio broadcast will cover the racing throughout the day. Click here to tune inwww.sailing.org/worldcup/multimedia/live-radio.php
Live BLOG
Join in and have a chat with James Boyd on the Live Blog. Get the low down on and off the water as the day progresses. Click here to engage www.sailing.org/worldcup/multimedia/live-blog.php
Live RESULTS
Want to know how your favourite sailor is getting on? Check out the results as they come in off the water here www.sailing.org/worldcup/results/index.php
Live MOBILE INFORMATION
On the go? In a rush? Not got time to follow the racing? Fear not as you can follow what's going on straight from the results system on your mobile. Click here to view the mobile mark roundings.
There's an App for that…
Live Tracking via the Sailviewer-3D Tablet App will be available for devices with 7″ or greater screens. 
Google Play – play.google.com/store/apps/details
iOS – itunes.apple.com/us/app/sailviewer-3d/id912801278
Get Social
ISAF Sailing World Cup Facebook
http://www.facebook.com/ISAFSailingWorldCup
The @ISAFupdates and @SailingWC_GBR Twitter account will be following the action throughout the week. Get involved by using the #SailingWorldCup and #SWC2015 hashtags.
Each course also has its own designated twitter page.
Each class has been allocated a em_tag to follow action from each race
@SWC_GBR_A #SWCrsx #SWCrsxW #SWCkite
@SWC_GBR_B #SWCskud #SWCsonar #SWC2_4m
@SWC_GBR_C #SWC49er #SWC49erFX
@SWC_GBR_D #SWC470 #SWC470W
@SWC_GBR_E #SWClaser #SWClaserRad
@SWC_GBR_F #SWCfinn #SWCnacra17
ISAF Sailing World Cup website
http://www.sailing.org/worldcup/home.php
Contact
Pippa Phillips – Media Centre Manager:
+44 (0)7967 705697 pippa.phillips@intotheblue.biz
ISAF Communications Department
Tel: + 44 2380 635 111
Fax: + 44 2380 635 789
Email: marketing@isaf.com
ISAF Sailing World Cup
The ISAF Sailing World Cup is a world-class annual series for Olympic sailing. It is open to the sailing events chosen for the 2016 Olympic Sailing Competition. Its centre piece is the ISAF Sailing World Cup Final in Abu Dhabi, United Arab Emirates.
The 2015 ISAF Sailing World Cup will consist of five regattas for all ten Olympic events and where possible, Formula Kite Racing. Qualification places for the ISAF Sailing World Cup final are up for grabs at each event. The final will bring together the top 20 boats in each Olympic event and an Open Kiteboarding event where the World Cup Champions will be crowned
2015 ISAF Sailing World Cup
Melbourne – 7-14 December 2014
Miami – 25-31 January 2015
Hyères – 20-26 April 2015
Weymouth and Portland – 8-14 June 2015
Qingdao – 14-20 September 2015
2015 Final Abu Dhabi – 27 October to 1 November 2015
View the World Cup qualification system here.
For more information about ISAF please go to isaf.com or contact marketing@isaf.com
UK Sport
UK Sport is the nation's high performance sports agency responsible for the strategic investment of National Lottery and Exchequer funding into Olympic and Paralympic sports and bringing major sporting events to the UK.
ISAF Sailing World Cup Weymouth & Portland is part of UK Sport's #EveryRoadtoRio events series, which will feature over 30 world class sports events the length and breadth of the UK, with over 900, 000 tickets available to the British public to support their athletes.
This ambitious National Lottery funded programme will support British athletes' preparation and qualification for Rio 2016, with up to 85 individual and 10 team Rio qualification spots available,  while generating economic impact for host cities and regions of over £37 million.
Throughout the #EveryRoadtoRio series UK Sport will be promoting exclusive ticket offers, opportunities to meet the athletes and get privileged behind the scenes access to events. Sign up now at www.uksport.gov.uk/events
About The International Sailing Federation
The International Sailing Federation (ISAF) is the world governing body for the sport of sailing.
ISAF is made up of 139 Member National Authorities (MNAs), who are its principal members, and responsible for the decision making process that governs the sailing world.
There are currently more than 100 ISAF Classes, ranging from the small dinghy classes for young people up to 60 foot ocean racers