Paralympic racing at ISAF Sailing World Cup Weymouth and Portland came to a close with the final two races taking place across the three classes.
It was a good day for Great Britain's sailors who took a host of medals, including two golds, on home waters. Alexandra Rickham and Niki Birrell in the SKUD18 and Helena Lucas in the 2.4mR won gold for Great Britain while Australian crew Colin Harrison, Jonathan Harris and Russell Boaden took the gold on offer in the Sonar.
SKUD18
The gold medal in the SKUD18 went to Great Britain's Alexandra Rickham and Niki Birrell who finished in style with double bullets on the final day of sailing in the Paralympic class.
Going into the final day the British duo were tied on points with Italy's Marco Gualandris and Marta Zanetti, but in home waters the Britons triumphed with a strong rally to finish the regatta.
Birrell said, "We knew whoever had the best day would take the gold medal, so it was all or nothing, and luckily we managed, between the three of us with our coach Marcus as well, to get the boat on the right set-up today and we seemed to have reasonably good pace."
Zanetti added, "Today was very difficult because there was more wind and more chop, and we don't do well in these conditions. The day before yesterday we were faster and near the British team but they were very fast today."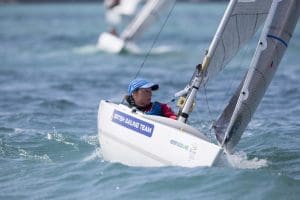 Another set of home sailors, Will Street and Megan Pascoe (GBR), took a second and third place to finish the regatta in the bronze medal position.
Top Three
1 – Alexandra Rickham and Niki Birrell (GBR) – 6
2 – Marco Gualandris and Marta Zanetti (ITA) – 8
3 – Will Street and Megan Pascoe (GBR) – 14
2.4mR
In the 2.4mR Helena Lucas (GBR) made it a clean sweep with six wins from six races and ended five points ahead of Italy's Antonio Squizzato in silver medal position.
Taking control all week, Lucas adds another gold medal in Weymouth and Portland, a venue even she admits is starting to become a 'lucky' one for her, "I love coming back to Weymouth and Portland and it is definitely my second home. The waters out there are so familiar and it does bring back really amazing memories of London 2012. It's my lucky venue."
Always one step behind Lucas with six second places, Squizzato said, "[Helena] Lucas is a very good sailor. She is very fast and doesn't do many mistakes and that difference in speed is important."
On his week he said, "I had a good regatta but I made some mistakes. Like today I didn't tack so good. But I have something to look at and do better."
Tied on 19 points was John Brooker (GBR) and Al Mastakim Matrin (MAS) with the Briton taking the bronze medal on countback.
Top Three
1 – Helena Lucas (GBR) – 5
2 – Antonio Squizzato (ITA) – 10
3 – John Brooker (GBR) – 19
Sonar
The Sonar was won by the Australian crew of Colin Harrison, Jonathan Harris and Russell Boaden who even had the luxury of knowing they had taken gold before the last race of the competition following a bullet in the fifth race.
Despite this, the Australian's finished on a high with yet another bullet in the last taking four in total for the regatta. Even though the win was in the bag the crew knew it was a great opportunity when they were sailing well and they could take advantage of the good times. Harrison said, "Every race is a valuable opportunity to find ways of making the boat go faster and an opportunity for the crew to work through any situations that may come along, so it was a good opportunity to do that."
On the win Harrison said, "It is very satisfying. It has been a very tough event with strong winds and the light day yesterday, but we have enjoyed racing again in Weymouth.
"Since 2012 it's been a bit of a drought for us here so it was nice to come up with a good result."
Finishing in silver was Great Britain's John Robertson, Hannah Stodel and Steve Thomas who took two second placed finishes to cement their overall second place. The British crew finished the regatta on 11 points.
Completing the medal list in bronze is Ireland's John Twomey, Austin O'Carroll and Ian Costelloe after Norwegian crew Aleksander Wang-Hansen, Marie Solberg and Per Eugen Kristiansen were disqualified from the final race.
Top Three
1 – Colin Harrison, Jonathan Harris and Russell Boaden (AUS) – 6
2 – John Robertson, Hannah Stodel and Steve (GBR) – 11
3 – John Twomey, Austin O'Carroll and Ian Costelloe (IRL) – 15