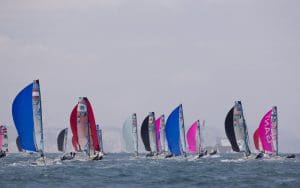 The positions for Sunday's live Medal Races have been decided following an intense day of competition at ISAF Sailing World Cup Weymouth and Portland.
After Friday only served up a race apiece for the Men's RS:X and 470,  Saturday was always going to be a hard day with an additional race for each fleet added.
A 13-17 knot breeze coupled with a lumpy sea state tested the competitors with the leader boards fully shaped for the live Medal Races which will be available to view here from 11:00 local timehttps://www.youtube.com/watch?v=XQ8hlJyeqxk 
Nacra 17
Jason Waterhouse and Lisa Darmanin (AUS) put together a consistent string of results to hold onto their lead in the Nacra 17. A 6-3-7-6 score line sees them lead on 41 points. Those around them were also equally impressive. Matias Buhler and Nathalie Brugger's 8-8-9-2 keeps them in contention with only the Medal Race remaining.
Consistency is something all sailors strive for. A solid string of results can bring great rewards and the Australians have exactly that with only a 20th, which they discard, marring a run nine top seven finishes.
"Today we had an okay day, " explained a modest Darmanin. "Nothing too special but nothing went wrong. We were quite consistent and I think we gained on our lead by a little bit so we're happy about that.
"We've got really good speed out there. The breeze is great and there are really good waves so we've been able to push it a bit this week and when we've been behind we've pushed it a little bit harder."
On 41 points, Waterhouse and Darmanin are seven points clear of Buhler and Brugger. With no room for complacency Darmanin remains focused on the task at hand,  "There's lots to play for. Every point counts for double so you can't mess up. It makes it a bit more tense and everybody is fighting for every point.
"We'll have a look at who's where and who we have to keep an eye on. I think we can't go out too conservative. We've got to go out and hit it hard and make sure we get round that race track as fast as we can and then get in a position to defend our lead."
The points are close behind the Australian and Swiss sailors. Thomas Zajac and Tanja Frank (AUT) and Darren Bundock and Nina Curtis (AUS) are tied for third on 53 points. John Gimson and Hannah Diamond (GBR) sit fifth on 55 and Italy's Vittorio Bissaro and Silvia Sicouri are sixth on 59.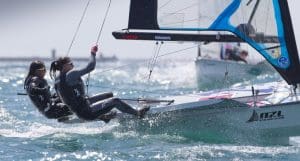 Finn
Giles Scott (GBR) was on the money in the Finn class. The Briton posted double bullets and a second to give himself a six point cushion over Josh Junior (NZL) heading into the Medal Race.
Scott and Junior battled throughout the day with the Kiwi taking the opening race victory. Scott hit back in the second for the bullet and as he cruised to the Race 7 victory Junior came through in fourth, teeing up what could be an intriguing Medal Race, "I think Josh and I have a jump on the rest and so he will be close to my attention, " said Scott. "It will be an interesting one; it has been a while since I have had such a tight Medal Race so it will be good to do."
Junior will need to put three boats in between himself and Scott to overthrow him. After racing Junior didn't give too much away regarding his Medal Race approach,  "Anything can still happen so I'll just try to have a good race and see what happens."
Andrew Murdoch (NZL) occupies the remaining podium position heading into the Medal Race and the Kiwi performance is something Junior was quick to praise,  "I think we are now getting the gear right and are starting to go really fast. Doc [Murdoch] has been a great sailor for many years and I've sailed pretty well and we are both starting to move towards the front, so hopefully that continues and we can do this more regularly."
Men's and Women's RS:X
Great Britain's Isobel Hamilton takes a slender two point lead over Italy's Flavia Tartaglini going into the Women's RS:X Medal Race.
Hamilton had a steady day on the water putting together scores of 5-4-1 and she tops the leaderboard on 20 points with Tartaglini behind on 22 and Tuuli Petaja Siren (FIN) on 24.
"Flavia the Italian girl had a really good day – she won the first two races. Tuuli from Finland got two seconds so both of those were really fighting hard around the course, " explained Hamilton on the competition.
Hamilton is on the verge of taking her first ISAF titled event gold medal. She has two silver medals from the ISAF Youth Worlds under her belt and realises the impact a World Cup title could have,  "All the World Cups are really important, and it's really nice to have a good result on your home turf. I head to the Europeans just after this event finishes, so it should be a good confidence booster before that."
Nick Dempsey (GBR) extended his lead in the Men's RS:X to six points over Tom Squires (GBR) in the Men's RS:X. From the day's four races Dempsey took three bullets and a second.
Dempsey and Squires have guaranteed themselves a medal apiece but one final race will decide the colour.
Daniele Benedetti (ITA) advanced to third overall after a solid display that included a race victory. He sits on 41 points with Ricardo Santos (BRA) six behind.
49er and 49erFX
From the four 49erFX races, Tamara Echegoyen and Berta Betanzos (ESP) were a cut above the rest. The Spaniards recorded a 2-3-1-1 and as a result move up to third place.
Alex Maloney and Molly Meech (NZL) had a steady day on the water to retain first overall. They are five points clear of Martine Grael and Kahena Kunze (BRA).
Peter Burling and Blair Tuke (NZL) were also in exceptional form in the 49er, taking a pair of wins and a pair of seconds. They have a an 18 point lead over their compatriots Marcus Hansen and Josh Porebski who in turn have a ten point advantage over Victor Bergström and Victor Vasternas (SWE).
Only a disaster could halt Burling and Tuke on their journey to another ISAF Sailing World Cup gold medal and the continuation of their unbeaten run.
Men's and Women's 470
In the Women's 470 New Zealand's Jo Aleh and Polly Powrie stay ahead of Great Britain's Hannah Mills and Saskia Clark with a bullet and two third place finishes.
The Briton's took a bullet and second place from the three races, but also had a fifth place leaving them with 13 points compared to the New Zealander's 11.
The other bullet of the day went to Sophie Weguelin and Eilidh McIntyre (GBR), but that could not lift them above Tina Mrak and Veronika Macarol (SLO) who lay in third in the overall leader board on 20 points. The Britons are six points back on 26.
Stuart Mcnay and David Hughes (USA) lead the Men's 470 on 20 points as they finished the day with a 5-4-2.
Trying to hunt them down are the Australian's, Mat Belcher and Will Ryan who took a bullet, second and fourth to end the day on 27 points.
It was a good day for Croatia's Sime Fantela and Igor Marenic who took two of the three bullets on offer and backed that up with a third place finish. They move to 44 points, just ahead of Greece's Panagiotis Mantis and Pavlos Kagialis who sit just three points back on 47 points.
Laser and Laser Radial
Marit Bouwmeester (NED) has been head and shoulders above her 35 other rivals in the Laser Radial.
From seven races Bouwmeester counts five bullets and two seconds, an outstanding collection of results that has only been bettered by Great Britain's Helena Lucas (GBR) in the Paralympic 2.4mR event.
Bouwmeester was unlucky not to make it a clean sweep of race victories on the penultimate day of racing. She took the first race victory with a certain degree of comfort, finishing 19 seconds ahead of Anne Marie Rindom (DEN).
In the next race she took an early lead but relinquished the spot to Annalise Murphy (IRL) who finished 19 seconds ahead. Bouwmeester led the third and final race of the day from the beginning but was passed by Evi Van Acker (BEL). Very little separated the pair as the race played out and the Belgian took the bullet by just seven seconds.
It's tight at the top of the Laser with four points separating the leading trio of Tonci Stipanovic (CRO), Matt Wearn (AUS) and Philipp Buhl (GER).
Stipanovic leads on 29 points followed by Wearn on 30 and Buhl on 33. Jesper Stalheim (SWE) and Charlie Buckingham (USA) remain in the hunt on 37 and 38 points respectively.
The day's race victories went the way of Sam Meech (NZL), Pavlos Kontides (CYP) and Stipanovic.
From 11:00 BST to 15:30 BST (10:00 UTC to 14:30 UTC) on Sunday 14 June, live Medal Races from ISAF Sailing World Cup Weymouth and Portland will bring the regatta to a close.
WATCH ONLINE
ISAF YouTube Channel – https://www.youtube.com/isafchannel/
Direct URL – https://www.youtube.com/watch?v=XQ8hlJyeqxk
ISAF Sailing World Cup Weymouth and Portland Medal Race Broadcast Embed Code
<iframe width="560″ height="315″ src="https://www.youtube.com/embed/XQ8hlJyeqxk" frameborder="0″ allowfullscreen></iframe>
MEDAL RACE SCHEDULE – LIVE Course
11:10 – Nacra 17
11:45 – Laser Radial
12:30 – Finn
13:10 – Women's 470
13:50 – Laser
14:30 – 49er
15:05 – 49erFX
MEDAL RACE SCHEDULE – Non-live Course
11:40 – Men's 470
12:20 – Women's RS:X
12:55 – Men's RS:X
13:30 – Formula Kite
Highlights of the non-live Medal Races will be shown throughout the live show.