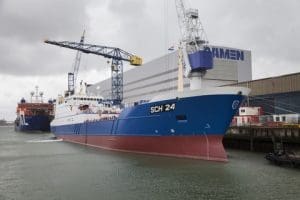 The Jaczon-operated fishing trawler, Afrika, left Damen Shiprepair Vlissingen on 9 July, fresh from a period in drydock where she received a programme of repairs and upgrades.
As with any refit project, a detailed plan was crucial. Not only did the collaboration of various contractors create a logistical challenge, the numerous activities that needed to be executed also required proper scheduling. Taking this into account, Damen ShiprepairVlissingen implemented a rigid operations schedule to avoid overlaps, ensuring minimal leeway for potential delays.
Safety first
Fishing vessels require extra consideration to matters of safety. "A few months prior to commencing works on Afrika, one of Jaczon's vessels caught fire. Understandably this meant that safety was a priority. Our fishing refit experience began with the rebuilding of one of the largest fishing vessels in the Dutch fleet, the Willem van der Zwan, which burnt out completely in 2007, " says Damen Shiprepair Vlissingen'sCommercial Manager Peter Sterkenburg. Several safety adaptations were made to the aft deck arrangement, new staircases in the holds and the bow thruster compartment.
Afrika's fish tanks are temperature-controlled by refrigerated cold water and insulated with purofoam to prevent energy loss. This highly flammable material can only be used once and is difficult to remove due to its positioning "in between" steel walls. A plan was devised to inject the space between the panelling and the deck with N2. The flow of oxygen was then closely monitored, and welding on deck successfully completed without having to remove the insulation.
Further activities
Additional activities performed on the vessel included the extension of the forecastle deck creating more storage space, as well as an extension of the boat deck, thus increasing the accommodation space, which also received a complete refurbishment. A complete steam-cleaning and paint job in the technical areas and an overhaul and renewal of a large part of the engine room machinery were also conducted. Dock items included the propeller shaft, hub modifications and fish equipment renewal.
One time completion
As there was a strict time frame to adhere to, unforeseen repairs needed to be assessed quickly. The synergy between all parties involved allowed for operations to run smoothly and finish on time.
Damen Shipyards Group
Damen Shipyards Group operates 32 ship- and repair yards, employing 8.000 people worldwide. Damen has delivered more than 5.000 vessels in more than 100 countries and delivers approx. 180 vessels annually to customers worldwide. Based on its unique, standardised ship-design concept Damen is able to guarantee consistent quality.
Damen's focus on standardisation, modular construction and keeping vessels in stock leads to short delivery times, low 'total cost of ownership', high resale value and reliable performance. Furthermore, Damen vessels are based on thorough R&D and proven technology.
Damen offers a wide range of products, including: tugs, workboats, naval and patrol vessels, high speed craft, cargo vessels, dredgers, vessels for the offshore industry, ferries, pontoons and super yachts.
For nearly all vessel types Damen offers a broad range of Services, such as maintenance, spare parts delivery, training and transfer of (shipbuilding) know-how. To complete, Damen offers a variety of marine components, especially nozzles, (flap-type) rudders, steering gear, anchors, anchor chains and steel works.
Damen Shiprepair & Conversion
In addition to ship design and shipbuilding, Damen Shiprepair & Conversion offers a network of 16 repair & conversion yards worldwide, with dry docks ranging up to 420×80 metres. Conversion projects range from adapting vessels to today's requirements and regulations to the complete conversion of large offshore structures. DS&C handles 1, 500 repair and maintenance jobs annually.
"Jo"