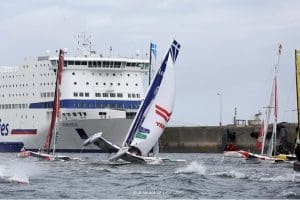 Despite a collision with Prince the Bretagne in last race, that prevented them to finish, Spindrift is the champion of the day after winning the first four races. They move the ranking to take second place overall, behind Groupama whose skipper Franck Cammas was onboard today.
Is it the place ? Or is it the crew ? Or simply a bit more luck ? One thing is for sure, Spindrift is in a positive spin. After their victory yesterday in the Coastal race, they snatched another win today in stadium racing format. « It's strange to end the day with a collision. We win after the jury's call, because we could not finish the race. Before that, everything was perfect. We took good starts, we were always in the right spot on the race course. Sometimes everything goes well, until someone crashes into you. That's what happen », said helmsman François Morvan, who only stepped onboard yesterday. « It's a bit frustrating but we had a big margin. We only had to finish the last race in the first 11 boats to win the day. We knew we were in the right. At the first mark, Prince de Bretagne arrived behind us and tried to avoid us but crashed into our rudder. We could not steer the boat anymore. The fact that Franck Cammas was onboard Groupama did not put extra pressure. Pierre Pennec did so well since the beginning of the Tour that it was hard to do any better. It's not surprising to see them finish second today. But we are going to keep holding on and fight hard ».
A maximum of ups and a minimum of downs
No real change for Groupama after a day of Stadium Races in 15 knots of wind. They are comforting their leadership by one point, scoring four podium finishes in five races. Team skipper Franck Cammas was onboard today, after competing in the Nacra 17 World Championships in Denmark. He will sail with the crew in Les Sables d'Olonne and in Roses, before heading to Portsmouth for the America's Cup World Series. « There has been a few little problems. We ran aground at low tide going out of the marina so we had to change the daggerboard and one rudder… Then it was hard to focus again. We haven't been very good, except maybe in the last race, where we sailed very well. I tried get back to it and find my marks, but it's not easy because everyone here has been sailing on the Diam 24 for more than a week. We have to keep an eye on Spindrift, but also on CombiWest and Grandeur Nature. There are going to be ups and downs until the end. We just need to have a maximum of ups and a minimum of downs ».
« Here to learn »
After 10 days of racing in the Tour, all teams have founds their marks on their Diam 24 trimaran and some of them are starting to shine on. La France du Nord au Sud, led by ex-ski champion Aurélien Ducroz, had a great day today in Roscoff. They finished ahead of the qualification races in their group, after a victory and a second place. « I think we took benefit of our good night sleep last night. It's the first one since the start. And of course, we are progressing well. In Pornichet, we started to perform in stadium racing format. Today we took more risks and it paid off. We are very happy with our day and with this serie of consistent results. It was windy today. We are still lacking a bit of speed, and we are going to work harder in coastal races. But we only sailed three days together before the start of the event. My objective is to learn. Performance comes second. My crew Laurent Voiron and Olivier Backes are fantastic and I learn a lot with them, as they are both multihull specialists. There is a great atmosphere onboard. In strong breeze, the boat goes fast and it reminds me of skiing, when we round the marks… It looks like a nice long skiing curve and I have a lot of sensations onboard. I love it ! »
Tomorrow the fleet will have a day-off to pack the boats and drive them to Les Sables d'Olonne, for Act 5, last stop on the Atlantic coastline, before heading to Roses, in the Med.
"Jo"