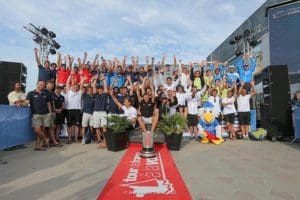 Today is a day-off on the Tour de France à la Voile. The 28 trimarans have left Roscoff (North Brittany) by truck this morning for a 450km drive to Les Sables d'Olonne, famous to be the start and finish of non-stop solo round the world race, the Vendée Globe.
Some of the Tour's skippers and crew have sailed around the world. Some others have won olympic medals, or taken part in the America's Cup and top international races.
Let's see who's done what.
Below is a selection of the best results in the most important sailing events.
OFFSHORE RACES VICTORIES
5 – Jules-Verne Trophy
Franck Cammas, Lionel Lemonchois, Xavier Revil, Loïck Peyron, Seb Audigane
1 – Volvo Ocean Race
Franck Cammas
4 – Route du Rhum
Franck Cammas (Ultime), Lionel Lemonchois (Ultime puis Multi 50), Loïck Peyron (Ultime)
1 – Vendée Globe
Vincent Riou
2 – Barcelona World Race
Bernard Stamm, Loïck Peyron
3 – Velux 5 Oceans / Around Alone
Bernard Stamm x3
3 – The Transat
Loïck Peyron x3
4 – Solitaire du Figaro
Jérémie Beyou x3, Nicolas Lunven
7 – Transat Jacques-Vabre
Franck Cammas x3, Jérémie Beyou, Vincent Riou, Sébastien Rogues
4 – Transat AG2R La Mondiale
Kito de Pavant, Lionel Lemonchois, Bruno Jourdren, Erwan Tabarly
4 – Québec – Saint-Malo
Loïck Peyron, Franck Cammas, Antoine Carpentier x2
2 – Record de l'Atlantique Nord
Xavier Revil, François Morvan
AMERICA'S CUP
6 – PARTICIPATIONS
Frédéric Guilmin (4 participations)
Dimitri Deruelle (1)
Loïck Peyron (1, and one in progress)
Thierry Douillard (2)
Damien Iehl (1)
Mikael Mergui (1)
OLYMPIC SAILING
Medals and finalists
Olympic Games
1 – GOLD – 2 .4 serie 2004 Athens Paralympic Games (Damien Seguin)
1 – SILVER – 2.4 serie 2008 Beijing Paralympic Games (Damien Seguin)
1 – SILVER – Sonar – 2008 Beijing Paralympic Games (Bruno Jourdren)
1 – 4th in Sonar 2008 Beijing Paralympic Games (Bruno Jourdren)
1 – World Championships Sonar 2014 (Bruno Jourdren)
1 – 4th – 470 (Mathilde Géron)
3 – 4th – Tornado (Pierre Pennec, Laurent Voiron, Olivier Backès)
1 – 4th – 2.4 serie 2012 London Paralympic Games (Damien Seguin)
1 – 5th – Laser (Félix Pruvot)
3 – participations (Xavier Revil, Dimitri Deruelle, Pierre Leboucher)
World Championships
11 – ORMA World Champion (Loïck Peyron (4), Franck Cammas (6), Mathieu Richard (1))
3 – Tornado World Champion (Pierre Pennec, Laurent Voiron, Olivier Backès)
3 – 2.4 World Champion (Damien Seguin)
2 – Nacra 17 World Champion (Marie Riou and Billy Besson, three times)
2 – Tornado World Nb 1 (Xavier Revil x2)
1 – Class C World Champion (Franck Cammas)
1 – 470 World Vice-Champion (Pierre Leboucher)
1 – Tornado World Vice-Champion (Jean-Christophe Mourniac)
1 – 49erFX World Bronze Medal (Julie Bossard)
4 – Formula 18 World Champion (Matthieu Vandame, Olivier Backes, Arnaud Jarlegan, Jean-Christophe Mourniac)
1 – Hobie Wild Cat World Champion (Emeric Dary)
(2 – freeride skiing World Champion (Aurélien Ducroz)
And many junior world and Europe championship titles
MATCH-RACE
Worlds podiums
1 – World Champion (Thierry Douillard)
1 – World Vice-champion (Mathieu Richard X 2)
2 –World Match Racing Tour Victories (Damien Iehl, Mathieu Richard)
"Jo"