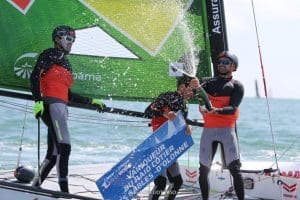 The 28 teams are now half way into the Tour de France à la Voile. They have sailed four Acts and there are four more to come in the Med. The Sables d'Olonne stage is the Tour's turning point. And after a full Act in the colours of Spindrift in Roscoff, Groupama is back in the winning mood. They snatched victory today in the last Atlantic Coastal Race, consolidating their leader position overall. CombiWest crossed the finish line in second place, while Corinthian team Vannes Agglo – Golfe du Morbihan scored a third podium since the beginning of the event.
The fleet crossed the start line early afternoon a light west-north-westerly breeze 5 to 7 knots. And the first boat on the line was : Team OZ. The Australian crew skippered by Rod Waterhouse was in top form today and is improving Act after Act, although their result three hours later is below their expectations. « We started off with a great start », said Rod « but then we missed the top mark. We came quite late and had a bit of a problem but we came back on the run down and ended up mid-fleet so we were happy, but on the beat back up we were doing well but we pushed it too far inshore and went in the rocks. We made one mistake and that was it for us. But it was still fun, we had a great day and we definitely get to handle the boat now. We are getting better. The difficult thing is that when we are focused on the boat speed, we are not focused on the navigation. It's one or the other. But now our boat speed is getting better and we are feeling more confident ».
Spindrift was another unlucky crew today. After taking the lead of the fleet before the top mark, François Morvan and his team got stuck in a lull… « After tacking just before the first mark, we could not bear away because we would have crashed into the other boat, nore luff. We got stuck. I tried to keep going straight ahead, but Vannes Agglo behind had to bear away and protested, so we had a penalty. Then the race was over for us. We ended up in 22nd position. We are very disappointed even though we did well catching up and finishing 7th ».
Corinthian Team Vannes Agglo took the benefit of Spindrift's penalty to lead the fleet with Groupama for most of the race. But one mistake and two top professional teams against them cost them victory, as Quentin Delapierre explains : « Groupama was very fast and putting pressure on us, they managed to pass us but we kept second place until we hit a rock badly. We could not lift the daggerboard. Luckily it happened at the end of the race ». CombiWest passed the young team to cross the finish line in second position, three minutes behind winner Groupama. Skipper Franck Cammas who stepped onboard the Diam 24 in Roscoff for the next two Acts, snatched a great victory to consolidate their leader position overall. « We did a long beat along the shore to avoid the strong current and we had to do many many tacks. But we are good at it. Better than our rivals. So we passed a few boats. I am lucky to step on a boat whose crew is already sailing very well. We made some mistakes but maybe less than the others, and that's why we win »
"Jo"