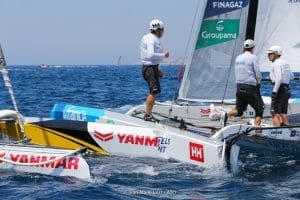 Pierre Pennec and his crew win Marseille Coastal race and take the lead back from CombiWest
Act 7, scene 1. Just three more days of racing to go and the competition is fiercer than ever. Groupama tops the leaderboard again, with a small three point margin over their rival CombiWest. And this margin between the two race leaders hasn't been so small since Act 2 in Fécamp two weeks ago !
The fleet sailed their second last Coastal Race today in Marseille in champagne sailing conditions. Sunshine, hot temperatures, warm water, nice 8-12 knots seabreeze : perfect set-up for a 20 mile long course around Frioul Islands and the west side coast of Marseille, probably one of the most beautiful coastline in the world.
At the press conference this morning before racing Grandeur Nature Vérandas skipper Fred Duthil explained the performance level between the teams at this stage tends to even. « At the beginning of the Tour the speed differences were obvious, but it's not the case anymore. Earlier in the Tour, when we were in 15th position, it was quite easy to come back. Now it's much harder. So that means you have to take good starts and have perfect tactics around the course »
Taking a bad start can have terrible consequences when you aim for top positions. Yesterday's Tour leader CombiWest were a bit late at the start and rounded the first mark in 20th position, while Groupama, PRB, Vannes Agglo and Grandeur Nature quickly took control of the fleet. « The wind was quite consistent and the boats were just following each other so it was difficult to make a 'coup' », said CombiWest skipper Fred Guilmin. « But we sailed really well and we worked very hard to make our way back up and finally finish 9th. It's not a bad day. We are in a very positive mindset since Pornichet, so there is nothing wrong there. Sure it's not a good result and we will talk about that tonight, but we are second overall and when we are second, if we pass the first boat, we become first… It's still our objective. But now we don't have the pressure anymore. Groupama has it. And maybe it's best to be hunting than hunted ».
Things could have been worse for CombiWest. In the overall rankings, they lose the leadership but they are only three points behind new leader Groupama, and everything is still possible. The competition is also a matter of state of mind. And after his victory today Groupama's skipper Pierre Pennec feels very strong : « Our team is here to win the Tour de France à la Voile. The crew wants to win it. I want to win it. We are here for that and if we finish second it will be a failure. Tomorrow the wind will be stronger (Mistral wind) and we love sailing in strong breeze, so I hope we can show how good we are in both light and strong breeze ».
Today's coastal race also saw a dramatic collision between West Courtage and La France du Nord au Sud as they were crossing updwind. Aurélien Ducroz and his team have a night of repair ahead of them as the float was severely damaged and prevented them from finishing the race. They are currently waiting the jury's decision regarding a potential redress overall.
"Jo"