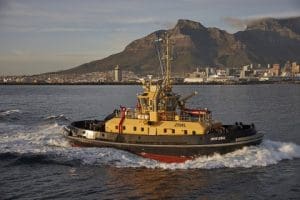 Damen Shipyards Cape Town (DSCT) is currently building a Damen ATD2909 Tug named Inyathi – Buffalo in English – to be delivered to the South African Navy in January 2016. Now in the production phase, this is the second tug the SA Navy has ordered from DSCT. The first, named Imvubu – meaning Hippo – was delivered beginning July 2015.
These tugs are to replace two existing harbour and coastal tugs, De Neys and De Mist, built in 1969 and 1978 respectively. They will remain in service until the delivery of the second ATD.The new tugs are equipped to safely assist the SA Navy's current and future fleet of vessels under all-weather, heavy sea, restricted visibility, day and night conditions within the confines of the Southern African ports and in coastal waters.
"We were looking for a proven design and a commercial off-the-shelf product. Damen Shipyards Cape Town's bid had the highest points combined with the right contract price. After the successful submission of the Armscor tender, DSCT was selected as the preferred bidder.The project team managing the acquisition describes the working relationship with Damen and the assistance it has received as excellent, " comments SA Navy Project Officer, Commander Hermann van Geems.
These registered SAMSA Class VIII vesselswere constructed in South Africa by a South African workforce in keeping with governmental imperatives to create and maintain local job opportunities. The vessels will be deployed for towing, mooring and fire-fighting operations. These robust vessels are equipped with rigid foundations, extra plate thickness, extra brackets and extra fendering.They were further outfitted with SA Navy equipment to ensure equipment duplication and maintenance saving. Compact and powerful, these ATD Tugs have a bollard pull of 43 tonnes, a length of 29 metres, a beam of 9.98 metres, a maximum speed of 13.2 knots and a propulsion system of two Caterpillar 3512C HD engines with a total power of 3, 000 bkW at 1, 600 rpm. They are also outfitted with Rolls Royce US 205 azimuth thrusters.
DSCT, formerly known as Farocean Marine, delivered two Damen Stan Tugs for the SA Navyin 2006. These vessels are currently in service with the Naval Harbour Master for port operations in Simon's Town.
Damen Shipyards Group
Damen Shipyards Group operates 32 shipbuilding and repair yards, employing 9, 000 people worldwide. Damen has delivered more than 5, 000 vessels in more than 100 countries and delivers some 160 vessels annually to customers worldwide. Based on its unique, standardised ship-design concept Damen is able to guarantee consistent quality.
Damen's focus on standardisation, modular construction and keeping vessels in stock leads to short delivery times, low 'total cost of ownership', high resale values and reliable performance. Furthermore, Damen vessels are based on thorough R&D and proven technology.
Damen offers a wide range of products, including tugs, workboats, naval and patrol vessels, high speed craft, cargo vessels, dredgers, vessels for the offshore industry, ferries, pontoons and superyachts.
For nearly all vessel types Damen offers a broad range of services, including maintenance, spare parts delivery, training and the transfer of (shipbuilding) know-how. Damen also offers a variety of marine components, such as nozzles, rudders, anchors, anchor chains and steel works.
In addition to ship design and shipbuilding, Damen Shiprepair & Conversion has a worldwide network of 15 repair and conversion yards with dry docks ranging up to 420 x 80 metres. Conversion projects range from adapting vessels to today's requirements and regulations to the complete conversion of large offshore structures. DSC completes around 1, 500 repair and maintenance jobs annually.
Damen Shipyards Cape Town: building in Africa for Africa
DSCT builds IPVs, OPVs, dredgers, tugs and platform supply vessels, especially for clients on the African continent. With a BBBEE-rating of 3 and a substantial NIP-offset, Damen is truly embedded in South Africa and committed to building high-quality ships.
"Jo"