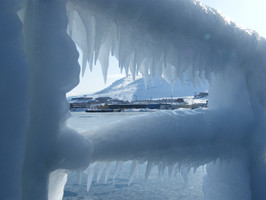 NAMEPA (North American Marine Environment Protection Association) presents "Safety in the Arctic" a seminar to take place at the Hotel Captain Cook on August 13th, 2015 in Anchorage Alaska. This event will address areas of preparedness, prevention and protection specific to the Arctic waters.
"On the eve of offshore drilling in the Arctic, NAMEPA is gathering the experts in the field to outline the safety measures being deployed in this effort to protect the marine environment." Stated Clay Maitland Founding Chairman of NAMEPA.
Speakers will include: Senator Lisa Murkowski, Clay Maitland- Founding Chairman NAMEPA, RADM Dan Abel- Commander D17-USCG, Mead Treadwell- Pt Capital, Kara Moriarty- AOGA, C. Agneta Dahl- MEP-Director, NJ Resources, Inc. Matt Hahne- Resolve Marine, VADM Brian Salerno –Bureau of Environmental Safety and Enforcement, Drue Pearce- Crowell & Moring, Jim Butler- Alaska Maritime Prevention & Response Network, Dr. Tara Riemer- Alaska SeaLife Center, Willie Goodwin -Alaska Beluga Whale Committee, Mark Swanson- Prince William Sound RCAC, Charlotte Brower- Mayor North Slope Borough, RADM Duncan Smith (USCGR- Ret.), Smith Advocacy Group.
Click here to register for this event.
"Save Our Seas" is the mission of the North American Marine Environment Protection Association (NAMEPA) which is an independent, marine industry-led entity that engages industry, regulators, environmental groups, educators and the public by promoting sound environmental practices. NAMEPA is a non-profit organization committed to preserving the marine environment through educating seafarers, students and the public about the need and strategies for protecting global ocean resources.
Learn more at www.namepa.net