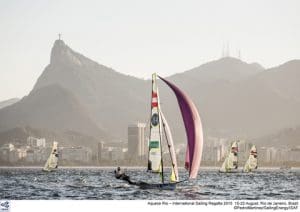 Rio de Janeiro's Olympic waters were packed full of exceptional sailing and athletic talent on Sunday 16 August with all ten Olympic events on show at the Aquece Rio – international Sailing Regatta 2015.
 
The Men's and Women's 470, 49er, 49erFX, Finn and Nacra 17 sailors joined their RS:X and Laser counterparts on the water for an exceptional day of racing. A southern breeze ranging from 6-10 knots was present as all six racing areas were utilised.
Men's and Women's 470
The Men's and Women's 470 fleets were the first to trial the Pai racing area and it stirred up tight leaderboards in both.
Nine points split the top eight in the men's fleet with 14 points separating the leading eight in the women's.
Mat Belcher and Will Ryan (AUS) lead the way in the men's and are followed by Stu McNay and Dave Hughes (USA). After racing Hughes commented on the course,  "The entire fleet hasn't done a great deal of training on the course. Historically we have all focused on Niteroi and Copacabana so it was a balance of trying to take the lessons of those two courses and see what was applied and make some adjustments.
"It's always head out of the boat on those outside courses. We took what we learned from race one and applied it to the second.
"We are really happy with the start of the regatta. You can always look at single races and places to do better, but of course the way forward is to put in a solid day and look forward to the next."
In the Women's fleet Shasha Chen and Haiyan Gao (CHN) and Anne Haeger and Briana Provancha (USA) share the lead. The conditions suited the teams with light frames and the Chinese and Americans capitalised.
Finn
Pieter-Jan Postma (NED) had a great day in the Finn, picking up a second and a first. The Dutch sailor holds the early advantage and was pleased with how things played out,  "I had a very good start and great strategy.
"I tacked off all the way to the right and there was a bit more pressure there and then to the mark, fourth at the top mark and then I caught up to second.
"The last race was quite the same, very good start, very good strategy and super happy I won the race."
Postma leads Max Salminen (SWE) by four points and Tapio Nirkko (FIN) sits in third. The opening race win went the way of Anders Pedersen (NOR) who is fourth overall.
49er and 49erFX
Uno, due, tre. One, two, three. Um, dois, tres. Whatever the language, the score cannot be faulted as Italy's Giulia Conti and Francesca Clapcich came out hard in the 49erFX to set a good benchmark.
An opening race first was backed up with a second and then a third as they took the early lead and Conti was happy her pre-race planning paid off,  "We went out with some strategy already as the pattern of the wind looks like it is the same every day and we talked with our coach about what to do.
"We had a clear idea of what to do and we stuck with it and the boat was fast and we sailed well. We had a good day."
Alex Maloney and Molly Meech (NZL) are second overall, a point off the Italians, after a 3-1-(15) whilst World #1 and ISAF Rolex World Sailors of the Year Martine Grael and Kahena Kunze (BRA) sit third.
A dying afternoon breeze meant that the 49er fleet sailed two out of three scheduled races.
Diego Botin and Iago Lopez (ESP) took the first race win and then a fourth which sees them lead. Nathan Outteridge and Iain Jensen (AUS) took the second race win but a 13th in the opening sees them in fifth overall.
The 49er have four races scheduled for 17 August to catch up on the schedule whilst the 49erFX will sail their scheduled three.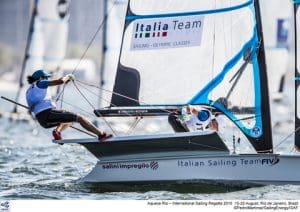 Men's and Women's RS:X
The Men's and Women's RS:X fleets enjoyed another excellent day on the water racing under Sugarloaf Mountain with a beach full of Carioca's enjoying Rio's sunshine and the great race action.
Aichen Wang (CHN) continued his good form in the opening race by taking the victory, but it didn't come easily with a number of his rivals just inches and seconds behind him. On the run to the finish Byron Kokkalanis (GRE) was hot on Wang's heels. Wang held firm to take the narrowest of wins.
Pierre Le Coq (FRA) also pushed hard throughout the race and was just five seconds behind Wang with Nick Dempsey (GBR), Ricardo Santos (BRA) and Max Oberemko (RUS) coming through seconds later.
The close racing continued and Wang was again, impressive. A second and a fifth, which he discards, hands him a nine point lead going into the RS:X fleets reserve day. Le Coq is in second with Kokkalanis occupying third.
Consistency pays off in sailing; it's the nature of the game. Across a large number of races in a range of conditions gold medals have been won by sailors who lacked a race win to their score card.
The Women's RS:X fleet saw exceptional performances from Malgorzata Bialecka (POL) and Blanca Manchon (ESP) who finished in the top eight in all three races. Across the six race series neither sailor counts a bullet but their consistency sees them placed second and third respectively.
France's Charline Picon had a mixed day with a race win, a second and a discarded 11th. She leads the way by one point over Bialecka.
The star of the show in the Women's RS:X was Estonia's Ingrid Puusta who recorded a race win and two thirds to catapult her up the leaderboard. She sits fourth overall.
Nacra 17
The fast paced Nacra 17 fleet were tested outside of Guanabara Bay, racing on the Copacabana course. At the early stages of the competition there is very little to separate the fleet. Gemma Jones and Jason Saunders (NZL) are at the top of the tree on four points following double seconds and a discarded 14th.
Race victories went the way of Lin Ea Cenholt and Christian Lubeck (DEN), Paul Kohlhoff and Carolina Werner (GER) and Mandy Mulder and Coen de Koning (NED). The three teams are tied on five points in second place.
Laser and Laser Radial
Croatia's Tonci Stipanovic was full of smiles after racing in the Laser following a race win and a second. Stipanovic had a mixed opening day with a first and a 14th but bounced back by doing what he know best, sailing hard, sailing fast and at the front of the pack.
After his performance of the day the Croatian holds the leading spot on four points.
Francesco Marrai (ITA) was just as impressive as Stipanovic recording a 2-3 and as a result moves up to second.  The days remaining race win went the way of Jesper Stalheim (SWE) who is tenth overall.
Gintare Scheidt (LTU) leads in the Laser Radial after picking up an eighth and a race win but displaying great consistency was Alison Young (GBR), with a 3-3, and Evi Van Acker (BEL) who picked up a 4-4.
For Van Acker, Rio's challenge is an exciting proposition as the fleet moved outside of Guanabara Bay on the Niteroi course. "Every course here is different, " said Van Acker. "Inside the bay is flat and outside is bigger waves, but this way on different courses the best all round sailor can win it.
"Tomorrow we are on the Pai course which is really far away and I am really excited to race on that with a bigger breeze."
Racing is scheduled to resume at 13:00 local time on Monday 17 August. The RS:X fleets will enjoy a day off whilst the remaining fleets will resume where they left off today.
HOW TO FOLLOWResults will be available throughout the Aquece Rio – International Sailing Regatta 2015 on the ISAF Olympic website here – http://www.sailing.org/olympics/rio2016/results/index.phpFollow the event on ISAF's social networks:
Facebook – https://www.facebook.com/ISAFWorldSailing
Instagram – https://instagram.com/isafworldsailing/
Twitter – @ISAFupdatesUSEFUL LINKSISAF Olympic Website – http://www.sailing.org/olympics/rio2016/home.php
Entry List – http://www.sailing.org/tools/documents/ENTRYLISTPERCLASSTEV2015OFICIAL280715-%5B19025%5D.pdf
Racing Schedule – http://www.sailing.org/olympics/rio2016/about/schedule.php
Sailing Instructions – http://www.sailing.org/tools/documents/AqueceRio2015SIFINAL-%5B19017%5D.pdf
Online Notice Board – http://www.sailing.org/olympics/rio2016/results/notices/index.php
Race Areas – http://www.sailing.org/olympics/rio2016/about/race_areas.phpAbout Aquece Rio
Rio de Janeiro, Brazil is set to welcome 339 sailors from 52 nations for the Aquece Rio – International Sailing Regatta 2015, the Olympic test event, from 15-22 August 2015. The Aquece Rio is the second sailing test event in preparation for the Rio 2016 Olympic Sailing Competition and sailors will be looking to stamp their authority one year out from the largest sporting event in the world.The Aquece Rio – International Sailing Regatta allows the International Sailing Federation (ISAF) to evaluate and make key decisions in advance of making the final decisions that will govern the Rio 2016 Olympic Sailing Competition.Six race courses will be tested throughout the week, three outside of Guanabara Bay and three inside. Courses outside include Pai, Copacabana and Niteroi whilst the inside courses are Pão de Açúcar, Ponte and Escola Naval. All will be tested throughout the week by the ten Olympic sailing events. Click here to view the racing areas – http://www.sailing.org/olympics/rio2016/about/race_areas.phpRio 2016 Olympic Sailing Competition

The Rio 2016 Olympic Sailing Competition will take place at the Marina da Glória, Rio de Janeiro, Brazil and will feature 380 athletes competing across ten events.

Racing is scheduled to take place from 8-18 August 2016 and the competition format for all events is fleet racing.

About The International Sailing Federation
The International Sailing Federation (ISAF) is the world governing body for the sport of sailing.

ISAF is made up of 139 Member National Authorities (MNAs), who are its principal members, and responsible for the decision making process that governs the sailing world.

There are currently more than 100 ISAF Classes, ranging from the small dinghy classes for young people up to 60 foot ocean racers.