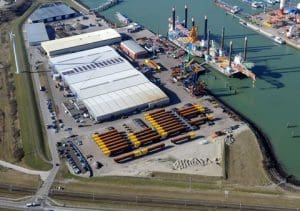 Vlissingen, September 2015 –  In recent years, VDS has grown and to be able to continue growing in a professional way in the coming years VDS has strengthened the management team.Robert van der Loos, CEO of VDS and Marcel Geschiere (COO) will be joined by Arjen Pattenier as CCO and Peter Heijndijk as Yard Supervisor. All have a long and broad experience in the maritime and offshore industry. With their specialized knowledge our clients are assured of the best service and support VDS can offer.
VDS is an all-round, driven by Turnkey solutions (EPCI) professional partner for the Civil infrastructure (new builds and maintenance), Petrochemical industry (turnarounds, maintenance,  new builds), Power sector (fossil, gas, nuclear for maintenance and turnarounds), Offshore Oil & Gas and renewables and the Shipbuilding industry).
VDS is located in the ports of Vlissingen and Eemshaven. These excellent locations on the North Sea coast have direct access to open sea. Therefore, these construction facilities can be easily reached without locks, bridges or air draft restrictions. Beside the 2 locations, VDS has a flexible pool of technicians familiar to work onsite at the Client yards or onboard (assembly & installation works) around the Northsea area.
Quality and Safety
After being successfully certified for ISO-9001/ISO-3824/EN1090, and VCA**, the company is now in the process for the OHSAS 18001 (Health & safety) and ISO 14001 (Environment) certifications.
VDS Staal- en Machinebouw Vlissingen location
VDS in Vlissingen, the third largest port region of The Netherlands, has excellent hinterland connections by road (congestion-free), by rail and short-sea. VDS Vlissingen owns a quay of 250 meters with a guaranteed draught of 10.50 metres llws. With an additionally 80 metres lay-by berth with a guaranteed draught of –12.50 metres llws. VDS Vlissingen is an excellent base for every onshore and offshore construction project. VDS Vlissingen offers a site area of 130, 000 m2, a 21, 000 m2 warehouse (LME certified) and workshop areas of 7, 000 m2 and a paintshop of 7, 000 m2 (DNV-GL shop approval). VDS Vlissingen is an ISPS certified terminal.
VDS Staal- en Machinebouw Eemshaven location
Strategically located in the north of The Netherlands, VDS Offshore Construction Terminal Eemshaven offers a 24/7 deep-sea construction terminal with a site area of 30, 000 m2 and a transportable mobile hall of 60 x 22 x 12 meters (lxwxh, expandable) for construction, warehousing, and painting activities. This second VDS location is an excellent additional base for onshore and offshore construction projects. A well fare – and office facility including spare part storage area is available for Clients to serve as operational base for Offshore Wind O & M. VDS Offshore Construction Terminal Eemshaven is an ISPS certified terminal.
Reference Projects 2015
VDS recently finished 2 successful offshore construction projects. A Pre Drilling Spacer Template for the Johan Sverdrup oil field and a Pre Drilling Wellhead Module (PDWM) for the Gina Krog project. In both projects VDS was responsible for the procurement, fabrication, assembly and load out.
Furthermore VDS played a significant role in the logistics and conservation of 48 foundations for the Westermeerwind project which are now installed at the IJsselmeer
The timely delivery of these large and complex projects in accordance with the clients requirements proves the professionalism and quality of VDS in project support and capacity within the offshore market.
For further information about VDS Staal- en Machinebouw, please visit www.vdsstaalbouw.n
Offshore Construction / Engineering / Conservation-Painting-Coating / Machining / Ship Repair / Stevedoring / Warehousing.