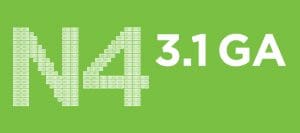 New Version Supports Industry Move to Automation; Delivers Enhanced Capabilities for Rail Operations, System Performance & N4 Migrations at Terminals Globally
OAKLAND, Calif.–(BUSINESS WIRE)–As a growing number of container terminals globally evaluate and adopt automation to address complex industry challenges, it is essential that terminal operating systems (TOS)—often the heart of the terminal—evolve in order to support new operational requirements. In response to this market need, Navis, a part of Cargotec Corporation, and provider of operational technologies and services that unlock greater performance and efficiency for the world's leading terminal operators, announces that N4 release 3.1 is generally available.
N4 release 3.1 demonstrates Navis' continued commitment to continuously improve the TOS' usability, enhancing operational efficiency for its customers, delivering a platform that is extensible and flexible enough to meet terminal needs now and in the future. N4 3.1 is the first major release of N4 since 2.6 was unveiled in April 2014.
"As operational challenges mount for the global container shipping community, the industry as a whole is actively seeking out solutions—in the form of innovative technology, equipment and best practices—that can help improve performance at the terminal and keep up with the increasingly complex challenges that our industry faces. At the same time, we are focused on improving the service delivery for our customers, " said Andy Barrons, SVP and CMO of Navis. "For nearly three decades, Navis has, and continues to be, the trusted partner for terminals globally. N4 3.1 represents a culmination of unmatched technology excellence and industry-leading experience from Navis that provides terminals of all shapes and sizes with the tools needed to succeed in the new world of shipping."
New features and enhancements in N4 3.1 include:
Automation: Functionality in N4 3.1 extends optimization for terminals using automated equipment (ASC, AGV, C-ARMG, as well as manned shuttles and straddle carriers).
Advanced Rail Operations: This shift towards developing more sophisticated on-dock rail operations has magnified the added focus on decoupling the delivery of containers to and from the rail transfer points, as well as making the use of the RGCs as efficient as possible. Thus, N4 3.1 includes functionality and optimization for Rail Gantry Crane (RGC) schedulers, moves, interactions and automation.
Architectural and System Performance Improvements: N4 3.1 has been performance tested for transshipment operations at 12 million TEU. Additionally, Navis continues work in this release to streamline chassis and bundling handling, improve chassis visibility and offer the ability to manage multiple containers on a chassis. Bundled flat racks are now managed as separate units in 3.1.
Improved Migration from SPARCS to N4: As more and more customers migrate from legacy SPARCS to N4, N4 3.1 includes key features that aid in the transition. In particular, N4 3.1 delivers advanced support for RTG twin lift, straddle carrier dispatching and the crane team app for manned operations. It also includes an enhanced narrowband solution for equipment control dispatch, improving the tools and methodology for Express to N4 data migration and developing a third party host interface to maintain existing TOS functionality.
User experience: As a result of direct collaboration with customers, N4 3.1 also offers a new web-based, "touch-aware" Crane Team user interface. The UI, intended for hatch clerks, crane drivers, foremen or quay side operators, is designed to improve user visibility and interaction, operational performance and equipment utilization.
About Navis, LLC
Navis, a part of Cargotec Corporation, is the global technology standard for managing the movement of cargo through terminals, standing the test of time. Navis combines industry best practices with innovative technology and world-class services to enable our customers to maximize performance and reduce risk. Whether tracking cargo through a port, automating equipment operations, or managing multiple terminals through an integrated, centralized solution, Navis provides a holistic approach to operational optimization, providing customers with improved visibility, velocity and measurable business results. www.navis.com.
About Cargotec Corporation
Cargotec shapes the cargo handling industry for the benefit of its customers and shareholders. Cargotec's business areas MacGregor, Kalmar and Hiab are recognized leaders in cargo and load handling solutions around the world. Their global network is positioned close to customers and offers extensive services that ensure a continuous, reliable and sustainable performance according to customers' needs. Cargotec's sales totaled approximately EUR 3.4 billion in 2014 and it employs approximately 11, 000 people. Cargotec's class B shares are quoted on NASDAQ OMX Helsinki Ltd under symbol CGCBV. www.cargotec.com.