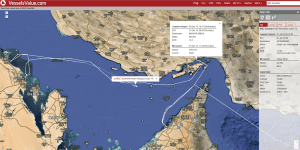 This is  screen shot from  VV@ Mapping Service showing the MSC Domitille calling at Bandar Abbas, Iran at the end of last year.
With US Sanctions being lifted from Iran, other vessels have entered into these waters earlier in the year: the CMA CGM Andromeda travelled to Iran on the 6th August 2015 (see screen shot CMA CGM Andromeda).
VesselsValue.com Mapping Service VV@ also provides Zone Alerts where clients are alerted by email when vessels enter the trading waters of selected countries or hand drawn zones on the VV@ Map. Alerts come pre-set with all US sanctioned zones.