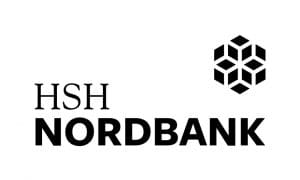 HAMBURG/KIEL HSH Nordbank has tapped the capital market for the first time this year, issuing a public-sector Pfandbrief with a 5-year term. This benchmark bond is in the amount of € 500 million and is backed by loans to the public sector. Rating agency Moody's has given the Pfandbrief a rating of "Aa2". The order book was substantially oversubscribed and was closed after a short time.
"With this transaction we successfully pursue our strategy of regularly issuing liquid Pfandbriefe and broadening our investor base, " said Ralf Löwe, Head of Funding & Debt Investor Relations at HSH Nordbank.
Alongside institutional investors based in Germany foreign investors contributed to about 25 percent to the issue. The Pfandbrief carries an annual coupon of 0.125 percent. Banks involved were HSH Nordbank, Commerzbank, Deutsche Bank, DZ Bank and Natixis.
HSH Nordbank uses Pfandbriefe as a key instrument in refinancing. The target group are institutional investors based both in and outside Germany. In 2015, HSH Nordbank placed ship, mortgage as well as public-sector Pfandbriefe in a total amount of about € 2.2 billion.