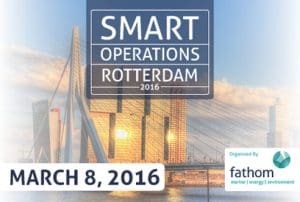 LONDON – February 23, 2016: Fathom Maritime Intelligence has announced that the global Smart Operations event series has returned for 2016, with the first conference and exhibition set to take place on March 8, 2016 in Rotterdam, The Netherlands.
In the midst of an increasing presence of digital solutions for smarter shipping operations, Fathom Maritime Intelligence supports ship owners and operators with specialist forums dedicated to the practical application of ship-to-shore connectivity and software solutions. The Smart Operations global events enable ship owners and operators to make business-critical, practical and informed decisions for implementing the best data driven technologies and processes for their operations.
Eight Smart Operations Events have been held to-date across locations  that include London, Hamburg, Hong Kong, Athens, Miami, Tokyo and Copenhagen, . Each event hailing great attendance and impact by catalysing open debate and discussions over the operational benefits of integrated thinking on shore and ship communications.
Therefore, this highly demanded event series will return for 2016, with events to be hosted in Rotterdam, Singapore and Cyprus.
The inaugural 2016 event, Smart Operations Rotterdam is a full-day, free-to-attend conference that includes four-sessions packed with informative expert presentations that will address the topics of Embracing the Smart Future, Technical Enhancement, Commercial Enhancement and Addressing Infrastructure.
To be held at the Manhattan Hotel in central Rotterdam, this event is expected to draw in a senior management audience of over 100 industry professionals including ship owners and operators, classification societies, industry associations and more. It will also host an exhibition alongside a number of networking opportunities including lunch and an evening networking drinks reception.
You can find information about the Smart Operations 2016 series and register your place for the Rotterdam conference via: www.fathomshippingevents.com
ABOUT SMART OPERATIONS 2016
The Smart Operations Event Series of 2016, will examine how the revolution in maritime connectivity and ship to shore exchange can benefit any ship owner and at the same time, determine how these capabilities can be utilised within their operations.
The Smart Operations 2016 Event Series will be hosted in Rotterdam, Singapore and Cyprus.
More information on the event series can be found at www.fathomshippingevents.com.
ABOUT FATHOM MARITIME INTELLIGENCE
Fathom Maritime Intelligence was founded in 2010 and has established a worldwide reputation for providing practical resources and independent information to ship owners and operators.
The company's mission is to facilitate competitive, responsible, cost effective maritime operations through the provision of clear, concise guidance that is accessible to all. Fathom comprises of three divisions – publishing, events and consultancy services, each feeding the other with technical knowledge and market insight.
www.fathommaritimeintelligence.com