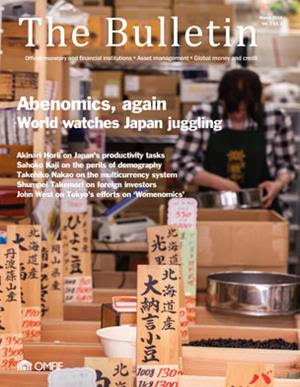 The March edition of The Bulletin puts Japanese monetary policies and the economic stance of Prime Minister Shinzo Abe under the spotlight. Haruhiko Kuroda, governor of the Bank of Japan, breached a taboo in January by cutting interest rates into negative territory, introducing a set of exemptions to protect banking profits in a way that the European Central Bank at its next policy meeting on 10 March is seeking to emulate. This is part of a macroeconomic remodelling – dubbed 'Abenomics 2.0', underlining that the first version, including massive purchases of government bonds, has not worked as planned.
The pinnacle of Bank of Japan government bond underwriting came with 1930s Finance Minister Korekiyo Takahashi, assassinated in 1936 as he attempted to stop ever-growing demand for military spending, which led to rampant inflation. Events in 2016 are more low key, but do not lack drama, as Shumpei Takemori,  Akinari Horii,  Sahoko Kaji,  Chris Scicluna and Grant Lewis, and John Westexplain.
The Bulletin includes reviews of the past month's OMFIF gatherings. These include an OMFIF City Lecture on 9 February by Banco de España Governor Luis Maria Linde, a 10 February lunch on Britain's EU referendum with former UK Chancellor of the Exchequer Lord (Nigel) Lawson, and a discussion on 15 February with Greg Medcraft, chairman of the International Organisation of Securities Commissions.
Elsewhere,  Nick Butler analyses the effects of the oil price fall on sovereign funds. Gus O'Donnellmaintains that co-operation between the public and private sectors is key to fulfilling pledges at December's Paris climate conference. George Hoguet reviews a timely analysis of global recessions and recoveries. We round off with poll findings showing that most members of OMFIF's advisory board expect China to better master its economic challenges in the next three years than Japan.
Other highlights of the March 2016 edition:
• Darrell Delamaide, US editor, describes the Federal Reserve's new mood of caution on interest rate increases.
• Takehiko Nakao, president of the Asian Development Bank, says the dollar will remain the key global currency – outlining how little has changed in the international monetary system since 2010.
• Ernst Welteke, a former Bundesbank president, explains his scepticism about the ECB's rotating voting system, which he says breaks with the principle of 'one member, one vote'.
• David Smith, former representative of the UN Secretary-General in the Americas, hails a landmark deal with creditors by Argentine President Mauricio Macri.
• Haihong Gao, of the Chinese Academy of Social Sciences, says the phasing out of China's hukou system of residence registration should accelerate the country's structural economic changes.
• John Adams, chief executive of China Financial Services, highlights the political frustration leading to the birth of the New Development Bank and the Asian Infrastructure Investment Bank.
The Bulletin is available to OMFIF members, and to non-members on a subscription basis. To subscribe please contact: membership@omfif.org.