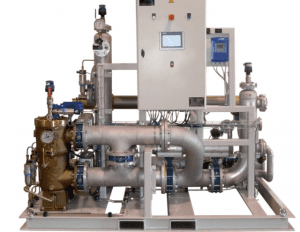 BIO-SEA keeps you informed on its latest developments regarding the USCG decisions on the Type Approval of BWTS
The BIO-SEA ballast water treatment systems (BWMS/BWTS) have been granted IMO Type Approval in
2013, and have obtained USCG acceptance as AMS.
The range has been optimized last year and is now also compliant with the Type Approval rules through
the MPN analysis method, accepted and used by the accredited organizations (DHI, DNV).
Additional tests campaigns have been undertaken with the Norwegian laboratory NIVA, showing that the
BIO-SEA system is also performant with the CMFDA method.
These overall statements are crucial as they demonstrate that the BIO-SEA system is indeed a « 4 wheeldrive
» BWT system, compliant with both the IMO and USCG rules and the MPN and CMFDA methods in a
large spectrum of water qualities (fresh, brackish, marine).
The BIO-SEA systems remain competitive, modular, chemical-free, not affected by the water salinity nor
by the water temperature, with no risk of coating corrosion in ballast tanks nor piping,
and is environmental-friendly.
The BIO-SEA/BIO-UV company confirms that the MPN method is indeed the one to be used worldwide
when measuring the UV systems efficiency on every disinfection water treatment, including drinking
water, reuse, waste water…
Nevertheless and in order to meet our customers technical and regulatory expectations, the BIOSEA/BIO-UV
company has decided, in the context of the recent debate, to show that BIO-SEA systems
are compliant with any measuring methods which will be chosen by USCG.