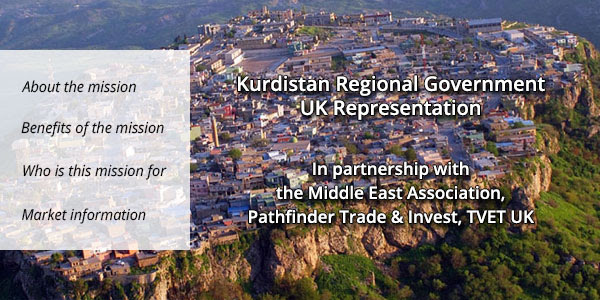 The Kurdistan Regional Government UK Representation in partnership with the Middle East Association, Pathfinder Trade & Invest, TVET UK and CT Trade Missions, will be leading a multi-sector Trade Mission to the Kurdistan Region incorporating a 1-day conference and one-to-one meetings with senior KRG officials and private sector representatives in Erbil and Slemani from 24th to 28th April 2016.Registration must close on Thursday 7th April and we therefore recommend early application in order not to miss the chance of participating in the conference with keynote speakers including the Ministers of Planning, Trade and Industries, Education, Agriculture and Water Resources amongst others, and the opportunity to have a tailored sector specific programme arranged for you including 1:1 meetings.STOP PRESS: The British Consulate General in Erbil have just confirmed that they will be involved in the in-market briefing and more excitingly all Mission delegates will be invited to the "Queens Birthday Party" taking place at the Consulate on the 25th April.
About the mission
| | |
| --- | --- |
| | This multi-sector mission will visit Erbil and Slemani from 24th to 28th April 2016. |
| | |
| --- | --- |
| | The Kurdistan Regional Government UK Representation will arrange a comprehensive programme of meetings including an in-market briefing, the conference and networking events. |
Benefits of the mission
| | |
| --- | --- |
| | You will attend a 1-day conference, under the patronage of Prime Minister Nechirvan Barzani and the Deputy Prime Minister, Qubad Talabani, which will include a series of forums and workshops and will examine the medium to long-term prospects of investing in Kurdistan's agriculture, housing, healthcare, transport, power, financial services, tourism and leisure, amongst other sectors in addition to more immediate business opportunities. |
| | |
| --- | --- |
| | There will be a tailored and sector-specific programme including; 1:1 meetings, arranged by the Kurdistan Regional Government UK Representation in both Erbil & Slemani. This will include meetings with the private and public sector including; the Ministries of Education, Housing & Reconstruction, Agriculture & Water Resources, Transport & Communication, Municipalities & Tourism, the Kurdish Federation of Chambers of Commerce and other relevant parties. |
Who is this mission for?
| | |
| --- | --- |
| | Mission participants must be British exporters of goods or services. |
| | |
| --- | --- |
| | They may be a UK registered subsidiary of a foreign company, provided they are actively contributing to the British economy. |
Market information
| | |
| --- | --- |
| | Kurdistan presents tremendous opportunities for UK businesses, especially in areas such as Construction, Infrastructure, Transportation, Logistics, Services, Environmental Technology, Agricultural Technology, Healthcare, Water Management, Waste Disposal, and many others. |
| | |
| --- | --- |
| | Whilst greater Iraq has suffered enormously since liberation, Iraqi Kurdistan has seen massive positive changes and attracted over $45billion in private investment across the Housing, Healthcare and Tourism sectors. |
| | | |
| --- | --- | --- |
| | | To register your interest and obtain further information please click below, to complete your details and a copy of the full prospectus, which includes the programme/itinerary and costs, will be emailed to you shortly. |
Kurdistan Regional Government UK Representation Trade Mission to Kurdistan

Register your interest
Applications to join this mission are now open – register your interest now to secure your place
Register your interest now

Talk to our experts
Talk to one of our experts to find your ideal Trade Mission.
+44 (0) 1892 673 435

Forward this email
Know someone else that might be interested in this mission? Forward to a friend.
Forward this email

Whilst the FCO Travel Advice currently advises against all but essential travel to Erbil & Slemani it is distinguished from wider Iraq. The security situation is however fluid and FCO guidance should be closely monitored by delegate companies.The Kurdistan Regional Government will arrange all group transportation which will be accompanied by official protocol personal.