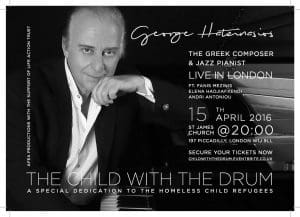 AFEA PRODUCTIONS with the support of LIFE ACTION TRUST presents:
THE GREEK COMPOSER & JAZZ PIANIST
George Hatzinasios LIVE IN LONDON
"The child with the Drum"
Special Dedication to the unaccompanied refugee children arriving in Greece
Friday15th April 2016
St James Church
197 Piccadilly London W1J 9LL
@20.00
Tickets:  www.childwiththedrum.eventbrite.co.uk
FEATURING
Fanis Mezinis, Singer
Elena Hadjiafxendi, Actress & singer
Andria Antoniou, Singer
Info: afeapro@outlook.com / Tel. 07474198280
"Once in this incurable world FEATURING
There lived a child, forgotten and defenseless
He had a small drum that he'd beat
Dum dum – dum dum
A concert inspired by George Hatzinasios song, 'The child with 
the drum' by the Greek poet Nikos Gatsos, will delve you into an atmosphere of hope, celebration, love and happiness with the vibration of the Drum of our souls. Guests will have the opportunity to enjoy Greek jazz, Greek – romeiko and epic – classical style and how it ts within the European musical scene without alienating the audience. Hadjinasios's work – comprising of his arias from
El Greco, his compositions inspired by Byzantine culture, blended with his soundtracks for
the award-winning 1989 British romantic comedy-drama lm Shirley Valentine, and his 'laika' (pop) songs – all together with dramatic narration create a synesthesia of rhythms, stories and feelings that can only result in an unforgettable experience!
George Hatzinasios is an icon and pioneer of Greek music history; he is one of the renown Greek composers and jazz pianists, with a national and international reputation. He was the one who introduced European jazz to the Greek musical scene. He composed music for television, cinema, theatre, opera and poetry of Greek poets. As a pianist, he is reputable for his musical experimentations and self-improvisation. One of his most famous albums is "The Eleventh Commadment" with Nana Mouskouri.
Musicians
Andrew Theodorou, Bouzouki A
Peter Georgiou, Bouzouki B
Sponsor by CYTA UK
*SUPPORT UNACCOMPANIED REFUGEE CHILDREN ARRIVING IN GREECE
Greece is facing the unprecedented challenge of welcoming, supporting and protecting thousands of children – from newborns to teenagers – arriving in the country alone. Many have lost their parents during the journey, others are sent off in order to flee a war or in search of a better future. Through 'Giving for Greece' you can support all necessary services for the protection and well-being of unaccompanied kids such as: guardianship, shelter, medical care, psychological support, clothing, guardianship and escort services provided by the NGOs Arsis, Doctors of the World – Greek delegation, Metadrasi, Praksis, at the entry points of Lesvos, Samos, Chios, Kos, Leros, Orestiada and the exit point of Idomeni.
Please help if you can. You can donate through one of the following bank accounts of the BODOSSAKI foundation, the organization that supports the teaching of Modern Greek at UEA, among others. You'll need to add the reference UAM next to your donation. For more information: www.giving.org.gr
BANK NAME: EUROBANK ERGASIAS S.A.
IBAN: GR21 0260 0250 0004 3020 0435 685
SWIFT BIC: ERBKGRAA
BANK NAME: ALPHA BANK
ΙΒΑΝ: GR58 0140 1200 1200 0200 2002 747
SWIFT BIC: CRBAGRAAXXX