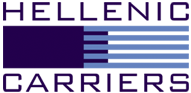 Hellenic Carriers Limited, ("Hellenic" or the "Company") (AIM: HCL), an international provider of marine transportation services for dry bulk cargoes, announces that at their Annual General Meeting held today on 12 April 2016 in Athens, all resolutions included in the AGM Notice dated 18 March 2016 were duly passed.
Following the acceptance and passing of the shareholders' special resolution on the cancellation of the admission of the Company's ordinary shares to trading on the AIM market of London Stock Exchange, the last day of dealings in ordinary shares on AIM is 19 April 2016 and the date and time that the admission to trading on AIM will be cancelled is 07:00 am UK time on 20 April 2016.
Furthermore, the Company wishes to announce the appointment of Mr. Apostolos Kontoyiannis as the new non-executive Director of the Company with effect from conclusion of the AGM.
On the occasion of the retirement of the Company's former non-executive Directors upon conclusion of the AGM, the Company would like to thank each one of them for their sterling service during their tenure on the Board, express its gratitude for their contribution since 2007 and wish each one of them every success in their future endeavours.