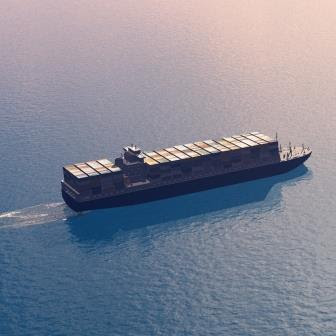 COSCO joins Maersk, Seabury and APM Terminals at 2nd Cool Logistics Asia conference to assess the changing face of container shipping and impact for regional perishable trades
HONG KONG, 28.04.2016 – Turbulent changes in container shipping are likely to rebound on global and regional perishable supply chains this year. As the industry struggles with vessel overcapacity, low growth and rock-bottom freight rates, a recent flurry of merger activity and resulting shifts in mega-alliances are creating uncertainty for shippers of fresh produce, seafood, meat, flowers and many other temperature-sensitive commodities that now depend on refrigerated container transport.
Helping to tease out the issues at the 2nd Cool Logistics Asia conference in Hong Kong this September 7 will be Isabella Hu, who heads up COSCO's global sales division. COSCO, currently undergoing a merger with fellow state shipping company China Shipping, is also a member of the newly-announced Ocean Alliance, alongside heavyweights in reefer container shipping, including CMA CGM and OOCL, plus Evergreen Line.
"Although the new Ocean Alliance is geared primarily towards the ailing East West trades and COSCO cannot yet be regarded as a global force in reefer shipping, the likely impact of the general realignment of shipping services will no doubt impact Asian reefer container services, " says Alex von Stempel, Managing Director, Cool Logistics Resources. "Our goal at Cool Logistics Asia this year is to help perishable shippers understand the new situation and inform their planning process to safeguard supply chain operations."
Ms. Hu will discuss COSCO's ambitions for growth in the reefer market, including investment in temperature monitoring, larger alliances, reefer plugs and schedule reliability. She will also touch on the role of the Chinese Government, ports and the creation of a 'comprehensive cool logistics centre in China'.
China remains the largest intra-Asia exporter and importer of perishables. Joining one of the key sessions at the conference, Ronald Veldman, reefer cargo specialist at Netherlands-based consultancy firm Seabury, will evaluate the prospects for intra-Asia as well as India/Middle East reefer shipping. Critically, he will provide a detailed correlation between reefer box volumes and cargo value in all of the above trade routes.
Of particular interest will be Raul Saca's intervention on behalf of Maersk Line. Mr. Saca, who heads up the reefer segment bananas and pineapples at Maersk USA, will address the spot market for bananas and its implications for reefer container shipping.
Other speakers and participants from the reefer container trade sector include Paul Gallie, Director of Port Investments Asia for APM Terminals, who will focus on the role of ports in South East Asia in developing viable regional perishable supply chains.
Cool Logistics is also delighted to announce that Thomas Eskesen will once again be chairing the opening session of the Cool Logistics Asia conference this year. Mr. Eskesen heads up Eskesen Advisory, the consultancy firm that he established after stepping down from his role as Maersk Line's global head of reefer management.
The 2nd Cool Logistics Asia takes place at Hong Kong's AsiaWorld-Expo on 7 September, alongside the annual Asia Fruit Logistica trade fair.
2nd Cool Logistics Asia
7 September 2016
AsiaWorld Expo, Hong Kong
www.coollogisticsasia.com
About Cool Logistics Asia Conference
Cool Logistics Conferences have become an internationally recognized platform for connecting perishable logistics and cold chain experts with producers and shippers of commodities that require temperature control.
Cool Logistics Asia is designed as a conference with a continental reach in Asia to complement Cool Logistics Global in Europe and other regional events such as Cool Logistics Africa and Cool Logistics Americas.
Co-located with the ASIA FRUIT LOGISTICA, the second edition of Cool Logistics Asia will revisit perishable trade and cold chain developments in Asia.
Cool Logistics Asia offers sponsor opportunities that allow one-to-one access to key decision makers before, during and after the event.