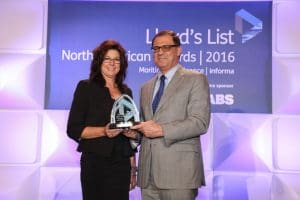 (JACKSONVILLE, Fla.; May 27, 2016) – Crowley Maritime Corporation was presented with the prestigious Ship Operator of the Year (Ocean-Going) Award during the Lloyd's List North American Maritime Awards ceremony and dinner held in New York last week. Accepting the honor before more than 300 people from Canada, the U.S., Mexico, and the Caribbean was Crowley's Karen Dempsey, director, port operations.
The Ship Operator award recognized Crowley for the successful, 124-year operation of its own diverse fleet of over 200 vessels – including tankers, container ships, barges, tugboats and articulated tug barges (ATBs) and for its reputation as one of the most recognized and sought-after domestic and international ship manager/operators in the world.
"Crowley is a fully integrated, third-party vessel manager and operator offering a comprehensive suite of international marine services backed by years of knowledge and experience, " said Wendy MacDonald, vice president, ship management. "We, in combination with our subsidiary Crowley Accord, currently manage nearly 80 third-party vessels in various parts of the world, including commercial and military ships of varying sizes and flags, giving us a unique presence on every navigable sea on the planet."
The company's government services group, which focuses on vessel management and engineering services for the U.S. government, has grown substantially over the past year, adding management contracts for 18 Military Sealift Command (MSC) vessels, including seven T-AGOS/T-AGM vessels, six Maritime Prepositioning Force (MPF) vessels, and five Roll-On/Roll-Off container ships (ROCON). Additionally, the group continues to be a major player in the management of the U.S. Government's Ready Reserve Fleet (RRF), having provided full ship management to this Maritime Administration (MARAD) fleet to ensure that the vessels are maintained in a high readiness state, while operating with reduced crew sizes.
On the commercial side, the combined Crowley/Accord fleet added four product tankers, 12 oil/chemical tankers, and several offshore supply vessels to its book of business in 2015. With offices in the U.S., Hong Kong, India and the Netherlands, Crowley/Accord is among the top 20 ship managers in the world with expertise and experience covering a wide range of ship types, including bulk carriers, trans-shippers, self-unloaders, container vessels, tankers and chemical carriers and offshore support vessels all under different flags, classes and crew nationalities.
"The company has developed various pricing and service methodologies, including the assignment of dedicated, commercial managers and specialized staff, ensuring each customer an exacting and customized match, " said MacDonald. "So whether a ship owner wants crew management only, a full spectrum of technical services, including back office support, engineering, regulatory compliance, etc., or a hybrid of both, Crowley can offer a tailored solution."
In addition to controlling costs for the customer, Crowley provides the benefit of an established crewing department, thus guaranteeing that the hundreds of crew members placed on managed ships are Crowley-quality crews. They are vetted and hired by Crowley; go through extensive training required by Crowley, are active participants in one of the most advanced safety-oriented cultures in the maritime industry, and are held accountable to the same high standards and ethical behavior requirements as crews on the company's owned vessels.
Jacksonville-based Crowley Holdings Inc., a holding company of the 124-year-old Crowley Maritime Corporation, is a privately held family and employee-owned company. The company provides marine solutions, energy and logistics services in domestic and international markets by means of six operating lines of business: Puerto Rico liner services, international liner services, logistics services, petroleum services, marine services and technical services. Offered within these operating lines of business are: liner container shipping, logistics, contract towing and transportation; ship assist and escort; energy support; salvage and emergency response through its 50 percent ownership in Ardent Global; vessel management; vessel construction and naval architecture through its Jensen Maritime subsidiary; government services, and petroleum and chemical transportation, distribution and sales. Additional information about Crowley, its subsidiaries and business units may be found at crowley.com .