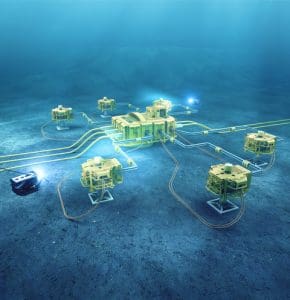 – Customer-case shows potential for a 40% reduction in engineering hours on subsea paperwork, and up to 80% less documentation –
A cross-industry project led by DNV GL to halt the boom in subsea documentation shows that implementing a standardized approach can significantly reduce engineering hours.  The two-year collaboration led by DNV GL has concluded in a publicly available Recommended Practice which can reduce the amount of subsea documentation and enable documentation reuse in a typical subsea field development project.
DNVGL-RP-O101 'Technical documentation for subsea projects' details a required minimum set of documentation transferred between E&P companies, operators and contractors for the construction, procurement and operation of a field. The outcome will reduce the volume and variety of documentation exchanged between the parties in a project, thereby making project execution more cost effective.
According to a contractor in the JIP, subsea documentation increased by a factor of four between 2012 and 2015.  Previously, a contractor in a typical subsea project would deliver around 10, 000 documents, with each one averaging three revisions, resulting in up to 30, 000 transactions between two actors.  Today, projects can deliver 40, 000 documents, with three revisions resulting in 120, 000 transactions. Handling time has also doubled per revision. A big project may require a contractor to have 25 people just on document control.
"We like solid documentation in DNV GL, but this massive explosion in paper hasn't tangibly improved performance, safety or environmental impact – it's just escalated costs without adding value, " saysBente Helén Leinum, Project Manager, DNV GL – Oil & Gas.
"A benchmarking exercise by one JIP participant showed that adoption of the RP could deliver a 42% potential reduction in engineering hours. The savings come from reduced reviews by reusing documents, having more standardized documents and avoiding unnecessary reviews of non-critical documents.  Another supplier estimates that the potential cut in documentation can be as high as 75-80% through increased use of standardized documents, " continues Leinum.
Jan Ragnvald Torsvik, lead engineer of Life Cycle Information at Statoil and co-chairman of the project, comments: "All JIP partners have invested considerable time and the outcome is a fantastic achievement that will dramatically cut waste in the handling of technical information in projects.  We have already learned that this standard's approach in utilizing package-specific requirements has a positive impact on standardization and  efficiency. We are already seeing the benefits of implementing a draft version of the RP in Statoil's Johan Sverdrup project last year, " he continues.
"The RP encourages more reuse of subsea documentation and will deliver more predictability throughout the value chain. It provides clear expectations for all parties involved, and duplications, misunderstandings and unnecessary work can be avoided, " says Tommy Lien, Senior LCI Process Coordinator, Aker Solutions.
JIP partners were Aker Solutions, Brightport, Centrica Energi, DEA Norge, Det norske oljeselskap, DNV GL, ENI Norge, GCE Subsea, FMC Technologies, GDF SUEZ E&P Norge, Kongsberg Oil & Gas Technologies, Lundin Norway, Oceaneering, OneSubsea, Statoil, Subsea 7, Subsea Valley and SUNCOR Energy Norge.
Observers: The Norwegian Oil and Gas Association and Petroleum Safety Authority (PSA) Norway.
About DNV GL
As of 12 September 2013, DNV and GL have merged to form DNV GL. Driven by our purpose of safeguarding life, property and the environment, DNV GL enables organizations to advance the safety and sustainability of their business. We provide classification and technical assurance along with software and independent expert advisory services to the maritime, oil & gas and energy industries. We also provide certification services to customers across a wide range of industries. With our origins stretching back to 1864, our reach today is global. Operating in more than 100 countries, our 15, 000 professionals are dedicated to helping our customers make the world safer, smarter and greener.
About DNV GL – Oil & Gas
DNV GL is the technical advisor to the oil and gas industry. From project initiation to decommissioning, we enhance safety, increase reliability and manage risks in projects and operations.  Our oil and gas experts offer local access to global best practice in every hydrocarbon-producing country. Driven by a curiosity for technical progress, we provide a neutral ground for collaboration; creating competence, sharing knowledge and setting industry standards. Our independent advice enables companies to make the right choices. Together with our customers, we drive the industry forward towards a safe and sustainable future.