Imperial Shipping chooses Van der Velden Marine Systems retractable flanking rudder systems for its push boats
The retractable flanking rudder system is an in-house innovation of Van der Velden Marine Systems (VDVMS). The system brings new efficiency to the inland shipping industry and will first be used in Paraguay. At the request of a large Dutch shipbuilder, VDVMS developed the system and had it tested independently by the Development Centre for Ship Technology and Transport Systems (DST) in Duisburg (DE).
Flanking rudders are often used for inland river tow boats. They are located forward of the propellers in order to provide manoeuvrability during astern operations, giving the convoy control when backing or flanking.  In practice flanking rudders are only required during a small percentage of the sailing time and when not in use they are parasitic, producing drag and creating turbulence to the inflow of water to the main propellers. Retractable flanking rudders increase water flow to the propellers, reduce vessel drag and increase propulsive efficiency, directly resulting in increased fuel savings.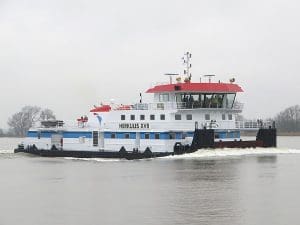 In close cooperation with the customer and the end-client the VDVMS team designed, engineered and manufactured the retractable flanking units in less than 6 months.
Imperial Shipping's new pushers, the Herkules XVII and Herkules XVIII, will operate on the Parana river in Paraguay with a maximum of 12 (approx. 62 x 17 m) barges, providing a total loading capacity of 35, 000 tons. Including the towboat, the entire convoy will measure 290 x 50 metres.
Main characteristics
Unprecedented powerhouses with 7 rudders and 5 independent steering gears
In addition to the delivery of two retractable flanking units (each with two high lift rudders and asymmetric steering gears) VDVMS has also supplied the main rudder system consisting of three HD240S high lift fishtail rudders with stainless steel reinforced leading edges. The vessel has five independently operating hydraulic power packs, three units which operate the three main rudders (3 x 1DW65/60) and two to retract and operate the flanking rudders (2 x 2DWK 4060/35). All main rudders are operated independently and controlled by the VDVMS Triple SP2700 control panel, the flanking rudders are operated by two SP2700 NFU control panels.
To operate the flanking rudder lift units, 2 HDMI touch screens (retractable flanking rudder operation and control system RET2700) have been installed. In addition, VDVMS supplied a proprietary follow up steering system to operate each rudder independently and one FU2700 steering lever to operate all three main rudders synchronized.
Van der Velden Marine Systems wishes the crews of the Herkules XVII and Herkules XVIII safe journeys and is confident that this "first-of-a-kind" retractable flanking rudder system will prove itself in these ultramodern tow boats.
Damen Shipyards Group
Damen Shipyards Group operates 32 shipbuilding and repair yards, employing 9, 000 people worldwide. Damen has delivered more than 6, 000 vessels in more than 100 countries and delivers some 180 vessels annually to customers worldwide. Based on its unique, standardised ship-design concept Damen is able to guarantee consistent quality.
Damen's focus on standardisation, modular construction and keeping vessels in stock leads to short delivery times, low 'total cost of ownership', high resale values and reliable performance. Furthermore, Damen vessels are based on thorough R&D and proven technology.
Damen offers a wide range of products, including tugs, workboats, naval and patrol vessels, high speed craft, cargo vessels, dredgers, vessels for the offshore industry, ferries, pontoons and superyachts.
For nearly all vessel types Damen offers a broad range of services, including maintenance, spare parts delivery, training and the transfer of (shipbuilding) know-how. Damen also offers a variety of marine components, such as nozzles, rudders, anchors, anchor chains and steel works.
In addition to ship design and shipbuilding, Damen Shiprepair & Conversion has a worldwide network of 15 repair and conversion yards with dry docks ranging up to 420 x 80 metres. Conversion projects range from adapting vessels to today's requirements and regulations to the complete conversion of large offshore structures. DSC completes around 1, 500 repair and maintenance jobs annually.
Van der Velden Marine Systems B.V.
With headquarters in the Netherlands, Van der Velden Marine Systems B.V. is a market leader in the supply of high quality steering gears, rudders and hydraulic systems to the world wide maritime sector for over 50 years. The firm's quality, safety, innovation and service distinguish it from its rivals. Van der Velden Marine Systems B.V. has a workforce in excess of one hundred. The firm has been a subsidiary of the Damen Shipyards Group of Gorinchem since 2013.
Van der Velden rudders and steering gear are renowned for their high quality. Wherever possible, the products are integrated in a tailor-made system. Reliability, low-maintenance, safety and sustainability are the main spearheads in the firm's manufacturing and installation process. Clients appreciate the uncomplicated and integrated solutions and the fact that a single dedicated project coordinator is appointed who bears responsibility for the entire manoeuvring system.
The Research & Development team is constantly looking for new ways of using the latest technologies to improve the manoeuvring performance of vessels in the global maritime market and especially the inland waterways, short sea, deep sea, offshore and yacht building sectors. This results in less noise and reduction of vibration and fuel consumption. Recent innovations include the newly developed Van der Velden FLEX Tunnel and the brand new FLEX Flank rudders to the portfolio of products.
24 x 7 Service by Van der Velden Marine Systems B.V.
The company offers an exclusive worldwide 24/7 service network. With a variety of professional services Van der Velden keeps your manoeuvring system in excellent condition. Our extensive network allows us to be quickly on location all over the world.