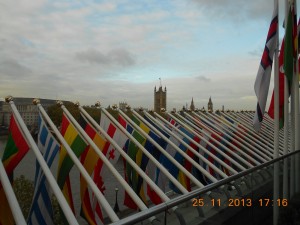 Day of the Seafarer campaign (25th June): #AtSeaForAll
21/06/2016 IMO is gearing up for its annual campaign to mark the Day of the Seafarer, an official United Nations observance day held on 25th June. Full Story»
New features for this year's campaign this year include a Twitter Thunderclap, designed to launch the day with a powerful message that should reach far beyond shipping itself. Other features to look out for include an interactive quiz to test your seafaring knowledge at http://dayoftheseafarer2016.imo.org/ – a fun way to find out if you qualify as a "Landlubber, Able Seaman, Chief Officer or Captain"- and share your score.
Seafarers and others are also invited to share their photos depicting a life at sea on IMO's online "Photo Wall', a webpage designed to showcase the rich and varied opportunities that a life at sea can offer. And, this year, IMO is adding Instagram to the campaign tools, providing another opportunity to post and share images that capture the importance of seafarers to all of us.
To support the campaign, IMO has also created a number of videos which are available to watch and share on the Organization's YouTube channel. In addition to Secretary-General Lim's message, there is also a series of short interviews about a day in a seafarer's life, and a poignant animation depicting the many everyday items "seafarers brought me", yet which are so easily taken for granted.
Across all platforms, the campaign hashtag is #AtSeaForAll
This year, once again we are celebrating the Day of the Seafarer saying thank you to all those who make great sacrifices to bring us some of the things we need the most through shipping. They are…