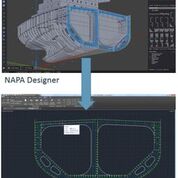 NAPA Drafting incorporates the world's most proven CAD system to automatically generate accurate 2D drawings from 3D ship designs
Helsinki, Finland – 21 July2016 – NAPA, the leading maritime software, data analysis and services provider, and Tech Soft 3D, the global leader in software development tools for engineering creating applications and worldwide distributor of AutoCAD OEM, today announced that NAPA Drafting software has been developed using the AutoCAD OEM platform from Autodesk. This allows NAPA Drafting to deliver the market standard in 2D drawing functionality automatically from NAPA 3D databases, enhancing productivity for yards and speeding compliance processes.
NAPA Drafting is also able to automatically generate rich 2D section drawings from the 3D NAPA ship model created in NAPA Steel. The tool can easily and quickly extract the data from the in-progress, or completed, 3D product models and translate it into the 2D drawings required for class approval. This includes automatically importing data such as plate thickness and material or compartment name and purpose, to automatically create the annotations typically used in ship structural drawings. The drawing can then be edited and enriched using AutoCAD's many drawing tools, including customising all imported annotations.
OEM training and toolkit support provided by Tech Soft 3D ensures that NAPA developers and engineers are able to quickly and easily get up to speed on AutoCAD OEM and take advantage of the efficiencies and benefits of the product.
By connecting direct to a user's NAPA 3D database, drawings can be created or updated at any stage of the structural design process, on demand, and exported as an industry standard .DWG file. It also has a significant advantage in ensuring that each connected 2D section is fully compatible with its neighbours, as they are each drawn from the same, highly-accurate, 3D structural model. Users will also be able to use NAPA Drafting to create specific object drawings, such as for single surfaces like knuckled decks, and expansion drawings for shells and other structures.