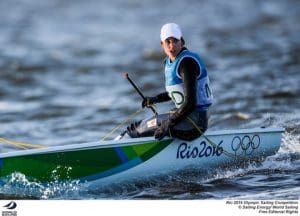 A host of Olympic medals have been secured on day six of the Rio 2016 Olympic Sailing Competition giving Croatia their first ever sailing medal.
Tonci Stipanovic is assured of at least a silver medal in the Men's One Person Dinghy (Laser), with a strong chance of gold. Australia is certain of a medal too in the same class as well as the Netherlands in the Women's One Person Dinghy (Laser Radial).
France's Billy Besson was nursing a back injury in the lead up to Rio 2016 but the Besson everyone knows and loves was back today. After a horrible start for Besson and his crew mate Marie Riou, they have shot back up the scoreboard after an amazing day on the ocean and remain back in contention for a podium finish.
Men's One Person Dinghy – Laser
Tonci Stipanovic (CRO) has secured Croatia's first ever medal in Olympic sailing, with the silver guaranteed. The only sailor who can threaten Croatian gold in Monday's Medal Race is Tom Burton (AUS) who sits 10 points behind Stipanovic and is assured of a medal.
It was a tense day on the water for the Men's Laser fleet, with one race on the Niterói course and the last qualifying race on the Pão de Açucar (Sugarloaf Mountain) course. Stipanovic kept his nerve to score 7,3 and Burton also sailed consistently for a 11,4. Sam Meech's victory in the last race has lifted the New Zealander to third overall, but it was not a good outing for Robert Scheidt (BRA) who tumbled from second overall to fifth after failing to get to grips with the day, his scores 26,11.
The reigning World Champion Nick Thompson (GBR) started well with a sixth but tailed off with a 22nd and sits on equal points with the Brazilian. Meanwhile Jean Baptiste Bernaz (FRA) has elevated himself to fourth overall and a point in front of Brazil and Britain. The best any of these three can hope for is to attack Meech for the bronze medal.
Stipanovic was understandably emotional at what he had achieved for his proud nation. "It is a nice feeling. It was a long journey from the first day. I don't want to celebrate totally, but I know I have sailed a really good series, and it feels really good. It's huge, this result is really huge. I think that I don't fully understand what I have achieved yet, but it will sink in. There are a lot of people at home watching this day, I think it will be crazy when I come back home."
Scheidt was disappointed with his day but not dejected. "I think I'm going to wait till tomorrowto think how to attack the Medal Race. I think it's a race where you have to be more aggressive, because there are a lot of points in the game and there are some guys who have the same points as me, and so the same perspective. I think it's going to be quite an interesting race, because a few guys behind have nothing to lose, while the top two guys are fighting for the gold. It will be interesting."
Women's One Person Dinghy – Laser Radial
Marit Bouwmeester (NED) has moved back to the top of the leaderboard in the Laser Radial fleet and holds a useful eight-point buffer on second placed Anne-Marie Rindom (DEN) forMonday's Medal Race. The London 2012 silver medallist is assured of another medal and is strongly positioned to win the gold that was so nearly hers four years ago.
The Laser Radials contested one race on the Pão de Açucar (Sugarloaf Mountain) course and one on Niterói, and Bouwmeester proved very adaptable to the different conditions, scoring 5,2. Annalise Murphy (IRL) also sailed superbly to score a sixth and seventh which puts her just two points behind Rindom. However best performer of the day was Evi Van Acker (BEL) whose first and fifth has brought her back into medal contention after a shaky start to the regatta, compounded by the effects of an intestinal infection. She and fifth-placed Tuula Tenkanen (FIN) will have to sail a very good Medal Race to have a chance at silver or bronze, but it's possible.
For Bouwmeester the Olympic Medal Race is familiar territory, after taking silver in the tightest of contests four years ago in London. "I think this time the difference is I have a few points on second and I'm certain of a medal, but the similarity is I still have to do a good Medal Race on Monday. We like the Medal Race course, it's challenging, but I'm quite confident there even though you never quite know what's going to happen on that course."
Evi van Acker was looking forward to another period of rest before Monday's showdown. "I still need to rest, after today. I'm pretty tired. I had my best day so far, and I'm so happy with the way I recovered after the bad three days at the beginning. For me the 36 hours of treatment and rest in the middle of the week was very important to have more energy and keep fighting. I made sure I had a lot of rest, a lot of food and a lot of smiling."
The bronze medallist from 2012 will have to fight hard and sail well to be assured of another medal in Rio. "It feels like London all over again, pretty much the same people and same situation except this this time I'm a bit behind. So I'll have to sail well in the Medal Race. But I'll be ready to go."
Mixed Multihull – Nacra 17
Before today's three races on the Copacabana course, the prospect of a medal looked very distant for the pre-event favourites, Billy Besson and Marie Riou (FRA). But scores of 2,1,1 have shot the French out of the teens and into seventh overall. What is also playing into their favour is how no one else has managed to find much consistency across the series. Jason Waterhouse and Lisa Darmanin (AUS) hold on to the lead but only by three points from the next two teams tied on equal points, Santiago Lange and Cecilia Carranza Saroli (ARG) and Ben Saxton and Nicola Groves (GBR). Thomas Zajac and Tanja Frank (AUT) have made some good moves up the table to fifth overall after a solid set of scores on Copacabana.
Back ashore, Besson found it hard to walk and remain standing while talking to the media, due to his back injury. "It has been a good day, but we go step by step. Today has been a good day, but tomorrow will be another different day. Physically it's quite tough. It feels like someone's sticking daggers in you."
Riou didn't want to talk about Besson's injury but commented about their performance on the water. "Today we found the good feelings with the boat and the speed. The first two days have been quite difficult for us, so it's been good to find again the joy and the good feeling on board. We had 8-12 knots of wind and we were able to make the boat go fast, to do good starts, to enjoy it, and to get three good results. Sometimes you get days like this, when the sun is shining in the sky. We are trying and we are going to keep on trying. The adventure continues."
Lange, aged 57, is the oldest athlete in the Olympic sailing competition and has won two Olympic medals in his long career. That experience is serving him well this week. "We have to be very calm, because the fleet is very competitive and the race course so difficult. There are still three races and the Medal Race ahead. We are very happy because we are in the fight, we came here to fight for a medal and we are doing it.
"The gold is always an option, we are confident on our preparation, but we are also aware that all is very open. I think that the one who is tenth in the overall results today can still win the gold. We have to be very calm and race well tomorrow.
"Billy Besson had an excellent day today, and that changes the overall results completely. We never counted him out of the fight [because of the injury]. He is the only one that can do what he is doing, he is a very good athlete and has a very good crew in Marie."
Jason Waterhouse looked a little incredulous when he said, "We are still on top. It's a strange day, it's a surprise that we are still leading." Lisa Darmanin was pleased to see the French back at full speed. "It's really great to see Billy performing well, he's the best out there and we want him to race the Olympics."
Men's Skiff – 49er
Erik Heil and Thomas Ploessel (GER) were flying in the medium winds on the Aeroporto course on a day that demanded four tiring races from the Men's 49er crews. A race win at the start of the day combined with some other top five scores has brought the Germans to just three points off the lead, still held by Peter Burling and Blair Tuke (NZL). Heil and Ploessel have a 15-point lead over the chasing pack who are tightly bunched on points, with the best of the rest being third-placed Danish team of Jonas Warrer and Christian Peter Lübeck who won the third race of the day. Defending Olympic Champions Nathan Outteridge and Iain Jensen (AUS) started the day well with a second place but are still struggling to fire on all cylinders and sit in sixth overall at the halfway point of the qualifying series.
Burling commented, "We didn't feel like we sailed that well but to come away with four low scores was good. You only had one shot to get it right today and if you didn't, it was hard to fight back through." Tuke added, "It's already the halfway stage of the fleet racing and with four races today it was a big chunk of the fleet racing. The results aren't as pretty as yesterday but we're really happy with things."
Heil was happy to be in second place but did not consider the 15-point gap to third to be significant, not in Rio. "These are the most difficult conditions in the world. We saw in the Laser class they had 25 knots with three-metre waves, and then shifty races in light wind on the Sugarloaf course. It can't be more difficult than here in Rio, but we love the challenge."
Women's Skiff – 49erFX
It was an inauspicious start to the Danish campaign for a medal in the Women's Skiff in the first race on the previous day, when Jena Hansen and Katja Salskov-Iversen were UFD disqualified for breaking the start line too soon. However, they have since made amends with four second places and a fourth, catapulting the Danes to the top of the 49erFX tree. Tied in second overall are two former World Champion teams, Martine Grael and Kahena Kunze (BRA) and Alex Maloney and Molly Meech (NZL). Meech will be buoyed by having seen her brother move into third place overall before the Laser Men's Medal Race in two days' time. The 2016 and 2015 World Champions, representing Spain and Italy respectively, hold fourth and fifth overall at the halfway stage of the 49erFX qualifying series.
Grael commented, "It has been a very good day. The Danish also sailed very well, really consistent. We are happy to be in the fight. We know that we have a good speed and we can recover when we don't start well. Now we are looking forward to a rest day and we're looking forward to racing outside with the wind and the waves."
Heavyweight Men's One Person Dinghy – Finn
Giles Scott (GBR) has pulled out a 16-point lead after scoring 1,3 in races seven and eight of the qualifying series in the Finn fleet. Vasilij Zbogar (SLO) has consolidated his position in second overall while Jake Lilley's good day on Ponte course has lifted the Australian to third overall. Pieter-Jan Postma (NED) and Ivan Gaspic (CRO) are clawing their way into medal contention and sit on equal points.
The racing resumes on Sunday 14 August at 13:00 local time. The RS:X fleets will contest the first Medal Race of the Olympic Sailing Competition as the fleet racing continues with the Finn, Men's and Women's 470 and the Nacra 17.