There has been plenty of drama going on across Guanabara Bay besides the four Medal Races at Rio 2016's Olympic sailing competition. Two gold medals have been decided with a day to spare and the 49erFX Medal Race is set to be a humdinger.
Men's Skiff – 49er
Peter Burling and Blair Tuke (NZL) have won the 49er Men's gold medal, and did it with two races to spare after dominating the 20-boat fleet at Rio 2016 over the past week. The New Zealanders have gone undefeated in major competition in the 49er fleet since taking the silver medal at London 2012. They have won all four of the last World Championships and were expected to deliver gold for New Zealand this week. Even Burling and Tuke might be surprised at the ease with which they've managed their extraordinary feat, however.
Behind them the battle rages on for the other medals, with Erik Heil and Thomas Ploessel (GER) holding second place in front of the 2012 Olympic Champions Nathan Outteridge and Iain Jensen (AUS).
Women's Two Person Dinghy – 470
Hannah Mills and Saskia Clark (GBR) have won the Women's 470 gold medal with the Medal Race to spare. The British team, who took silver four years ago at London 2012, sailed a very solid day with scores of 3,2,3 to carry an unassailable 20-point advantage into tomorrow's Medal Race. The only thing that stands in the Brits' way is if they receive a technical two-point penalty for failing to follow pre-Medal Race procedures. But they're unlikely to jeopardise their gold with any such oversight. Their arch-rivals, the defending Olympic Champions Jo Aleh and Polly Powrie (NZL) have sailed an incredible comeback series after clocking up two expensive disqualifications earlier in the competition. The Kiwis' scores of 1,1,4 today have lifted them back to the silver medal position, with the double-points Medal Race poised for a fierce battle for silver and bronze as six teams are separated by just 11 points. They are Slovenia, USA, France, Japan and the Netherlands. Austria's double World Champions have had a disappointing week by their high standards, but Lara Vadlau and Jolanta Ogar still have an outside shot at silver or bronze.
Women's Skiff – 49erFX
Four into three, doesn't go. We know that from watching the Laser Radial Women's race at London 2012 four years ago. For the 49erFX Women's Medal Race we are looking at an identical scenario with four crews going intoThursday's finale on an equal footing. They are Tamara Echegoyen and Berta Betanzos (ESP), Martine Grael and Kahena Kunze (BRA), Jena Hansen and Katja Salskov-Iversen (DEN) and Alex Maloney and Molly Meech (NZL).
The fact that that the fourth-placed New Zealanders sit a point behind the top three tied on 76 points is academic because the Medal Race is a double-pointer. The order that they cross the line will determine what colour of medal they win. Or if they will be the unfortunate ones to win nothing at all.
Three of the four teams have won a 49erFX World Championship, the odd ones out being the Danes who do however have a European title. But, any of these teams would happily trade those titles for an Olympic gold at Rio 2016. Only one of these eight sailors, Spain's Echegoyen, knows what it feels like to be Olympic Champion after winning gold in the Women's Match Racing four years ago.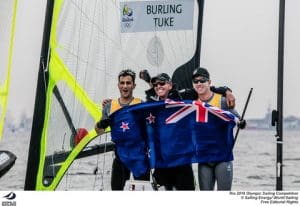 Men's Two Person Dinghy – 470
Earlier in the day, Laser sailor Tonci Stipanovic made history to become the first sailor to win an Olympic medal for Croatia. But Laser silver could be eclipsed less than 24 hours later by 470 Men's gold. Sime Fantela and Igor Marenic (CRO) have sailed a stellar week in tough conditions, and the reward is an 11-point gap over the nearest opposition. That opposition, you might have thought would be Australia. But no, it's the Greeks, Panagiotis Mantis and Pavlos Kagialis (GRE), who now sit in silver medal position after notching up three second places on Tuesday afternoon. Mat Belcher and Will Ryan (AUS) have a lot to do if they're to keep the gold medal for Australia, a nation which has all but owned this event since it won its first of many 470 golds back in Sydney 2000. The Aussies sit just two points behind the Greeks so silver is well within their grasp. Gold is more of a stretch. Such is the lead of the top three, no other team can attack the podium. The best of the rest is the American crew, Stu McNay and David Hughes (USA).
The 470 medals will be decided when the sailing resumes with the Medal Race on 17 August at 13:00 local time. The Skiffs have a lay day before the final Medal Races of the Rio 2016 Olympic Sailing Competition.