LAST CHANCE – Attendance is free of charge for qualified delegates
REGISTER FOR THE NEW YORK MARITIME FORUM – THE CAPITAL FOR SHIPPING
Tuesday, September 13, 2016 – Metropolitan Club
  The New York Maritime Forum (NYMF) is both an investment and an industry conference with a double objective.
• To provide an interactive platform for investors, financiers, cargo owners and shipowners to discuss the latest developments in the global shipping and commodity markets, as well as in the financial and capital markets.
• To showcase and promote the role of New York as a hub for the global maritime community and attract more business to New York targeting a global industry audience.
The Forum will feature a number of panel discussions and presentations along these two main themes, as well as individual company presentations and one on one meetings between investors and company management.
The NYMF has invited the major industry organizations, advocacy groups and city and state agencies to take active involvement with the event.
President & CEO – Empire State Development & Commissioner of the New York State Department of Economic Development
PRESENTATIONS & PANEL TOPICS
•  Dry Bulk Sector
•  Brexit: Implications & Impact on Shipping & New York
•  Container & Liner Shipping
•  Bank Finance & Shipping
•  LPG Shipping
•  Capital Markets & Shipping
•  Investing for Yield Through Shipping
•  Optimizing Costs and Boosting Efficiency? Time for
Investment in Big Data and New Technology or
Wait for the Next Cycle?
•  Maritime Arbitration: Global Trends & Developments
New York as Maritime Arbitration Center
•  Investments in Container Leasing: Lemons & Lemonade
in a Challenging Market
•  Current Trends in Marine Insurance
•  The Port of New York & New Jersey a Major Maritime
& Transport Hub
•  Analyst Panel
•  Global New York – New York as a Business &
Investment Destination
•  Private Equity
•  Overview of New York's Maritime Economy
•  Fuel Oil & Bunkering
•  New York as a Logistics Hub
•  LNG Sector
•  New York as a Maritime Education Center
•  Restructuring
•  Shipbroking – Enhancing the S&P Market Liquidity –
New York as a Shipbroking Center
•  Product Tankers
•  Maritime & Admirality Law
•  Crude Oil Tankers

PARTICIPATING SHIPPING/ENERGY/LOGISTICS COMPANIES
•  Aegean Marine Petroleum (NYSE:ANW)
•  Avance Gas Holding Ltd (NO:AVANCE)
•  Capital Product Partners (NASDAQ:CPLP)
•  COSCO USA
•  d'Amico International Shipping SA (Borsa Italiana: DIS)
•  Diana Shipping (NYSE:DSX)
•  Dorian LPG (NYSE:LPG)
•  Dynagas LNG Partners LP (NYSE:DLNG)
•  Eagle Bulk Shipping (NASDAQ:EGLE)
•  Euroseas (NASDAQ:ESEA)
•  Excelerate Energy
•  EXMAR (EBR:EXM)
•  Gener8 Maritime (NYSE:GNRT)
•  KNOT Offshore Partners UK LLC (NYSE:KNOP)
•  Navig8 Product Partners (N-OTC: EIGHT)
•  Ridgebury Tankers Ltd
•  Safe Bulkers (NYSE:SB)
•  Scorpio Bulkers (NYSE:SALT)
•  Seanergy Maritime Holdings Corp. (NASDAQ:SHIP)
•  Seaspan (NYSE:SSW)
•  Sovcomflot UK
•  Star Bulk Carriers (NASDAQ:SBLK)
•  Touax Group (FP:TOUP)
•  Triton International (NASDAQ:TRTN)
•  Tsakos Energy Navigation (NYSE:TNP)
•  World Fuel Services (NYSE:INT)

TARGET AUDIENCE
The audience will include the senior executives of global shipping, energy and commodity companies listed on US exchanges, commercial and investment bankers, institutional investors and financial advisors as well as a broader spectrum of industry participants such as shipping and liner companies, container leasing companies and operators, ship managers, ship brokers, ship agents, ship charterers, port terminal operators, port security, naval architects and engineers, classification societies, marine insurers and underwriters, marine arbitrators, maritime lawyers, marine mediators, marine advisors and consultants, maritime technology and marine educators.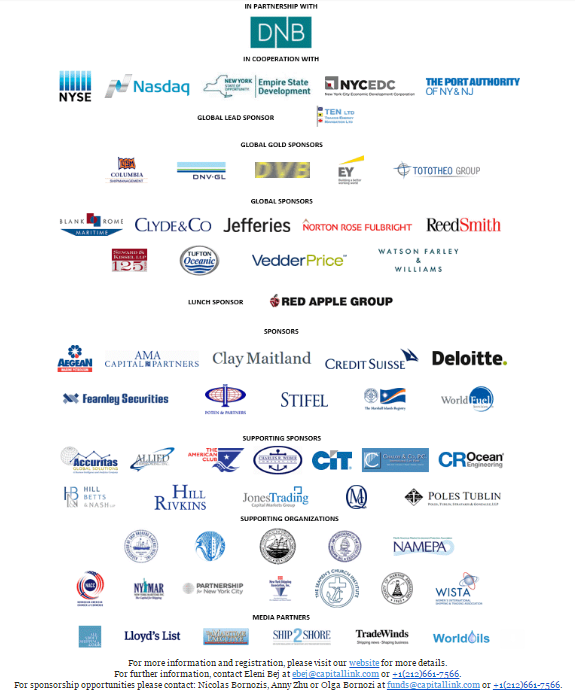 Seating is limited. Register now to save your seat.
For more information and registration, please visit our website for more details.
For further information, contact Eleni Bej at ebej@capitallink.com or +1(212)661-7566.
For sponsorship opportunities please contact: Nicolas Bornozis, Anny Zhu or Olga Bornozi at funds@capitallink.com or +1(212)661-7566.