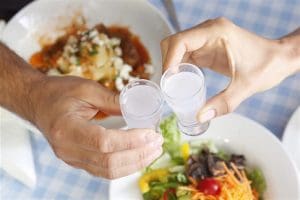 Celestyal Cruises' "Stories of Greek Enogastronomy" Will Be Told Through the End of November on 3-, 4- and 7-day Aegean Cruises
Piraeus, Greece — Celestyal Cruises announces autumn cruises redolent with the aromas and flavors of Greek cuisine and wines through the end of November:  Passengers on 3-, 4- and 7-day Aegean cruises throughout September, October and November will take a series of delicious journeys through Greek enogastronomy. The autumn "Stories of GreekEnogastronomy", which Celestyal Cruises has designed with expert input from esteemed food and travel consultants, is as follows:
Wines. On Iconic Aegean Cruises embarking 12th September and on the Celestyal Nefeli and 10th October to Mykonos, Kusadasi, Patmos, Rhodes, Heraklion and Santorini, passengers can discover Greek wines during free classes provided by Mercouri Estate Winery of Pyrgos, Greece, which will introduce passengers to the secrets of great wine. Passengers sailing on the 23rd and 26th of September and on the 21st of October will enjoy degustation of classic Greek wines paired with Aegean cheeses and accompanied by live music.
Mastiha and Olives. 7-day cruises embarking in September and calling at Istanbul, Kusadasi, Santorini, Saint Nicholas, Rhodes, Symi, Chios and Mykonos are dedicated to two purely Greek products, mastic from Chios and Greek olive oil on the 16th and 30th and the 9th and 23rd, respectively. Mastihashop of Chios will present its products and will provide tastings; GAEA, the foremost company in Greece for olives and olive-derived products, will present interactive demonstrations, such as its "Hot Potato Test," to explain to passengers how to identify and enjoy top-quality extra virgin olive oil.
Spirits and Liqueurs. Passengers on cruises sailing on 5th September and 16th September, will have a chance to experience authentic Greek spirits and liqueurs, including ouzo, retsina and tsipouro. Demonstrations will include a tasting of classic Greek wines paired with Aegean cheeses.
Pasta and Pies.Passengers sailing the 4-day Iconic Aegean on the 19th of September and again on the 24th of October are in for a delicious experience when our chefs teach them, and feed them, traditional Greek pasta and pies, including cheese pies and spanakopita.
Farm-to-Table with Nice n'Easy. Passengers sailing on the 23rd of September should prepare to be dazzled by Chef Chris Athanasiadis, owner of Athens farm-to-table specialists Nice n'Easy, who will prepare some of the dishes that have made his restaurant one of the hottest new restaurants in Athens.
Traditional Greek Kitchen. Looking to tuck into food that oozes Greek authenticity and Mediterranean flare? Passengers who sail with us on the 7th and 14th of October will enjoy presentations of famous Greek dishes by famed food blogger and chef "Two Minutes Angie."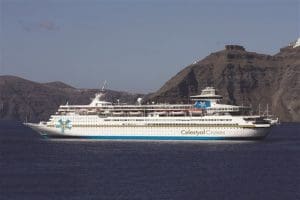 Festival at Sea. Our 3-day Iconic Aegean cruise embarking on 9th September is dedicated to Greek festivals. We will host an authentic Greek festival on board with traditional Greekfood – small souvenirs will be available for purchase, as they are festivals throughout Greece.
Celestyal Cruises has designed its autumn cruises to immerse its passengers in Greekenogastronomy and to provide them with authentic Greek hospitality, a way of greeting and hosting visitors that reaches back to Ancient Greece. The cruise line invites passengers to experience a golden, uncrowded Aegean through November, and to be different and live the authentic on "delicious" Iconic Aegean cruises this fall.
About Celestyal Cruises
Celestyal Cruises is the only cruise operator based in the Greek islands, Turkey and Cuba. Two of the company's ships, the "Thomson Spirit" and the "Thomson Majesty," are under charter to Thomson Cruises of TUI AG. Celestyal Cruises visits the most Greek ports than any other company (30 in total), promoting the authentic Greek experience and the country's beauty, hospitality, flavours and culture to foreign visitors. A rapidly growing business organisation with respect to its guests' modern needs and demands, Celestyal Cruises offers daily the highest standards of consistent quality to hundreds of thousands of visitors. In 2015 the company won the highest distinction for the Best Communication Strategy at the nautical Efkranti Awards and three prizes at the Tourism Awards: a Gold Award for "Cruises-Themed Events" and two Bronze Awards for "Contribution to the National Economy" and "Contribution to Local Economies-New Destinations". In 2016 the company received four prizes: Gold for "Cultural Tourism", for its rich themed events programme; a Silver for the category "Touristic Development/Contribution to National or Local Economy" and two Bronze for the "Social Media Utilisation" and "Selection, Rewarding & Development of Employees". Also in 2016 Celestyal Cruises was given the "Cruise Line Revelation" prize at the Excellence Awards in Cartagena, Spain, and was among the finalists for the category "Continuous Enrichment, On Board and Ashore", at the Wave Awards in London. As a validation of its innovative practices, the company was given five Silver Awards at the HR Community Awards. Celestyal Cruises is the only representative of Greece to the Cruise Lines International Association (CLIA Europe). The Celestyal logo evokes the sea, the sun and the wind. It reflects the company's commitment to its Hellenic roots, and to supporting the economy and preserving the environment of each destination it visits. Be different. Live the authentic. For more information, please visit CelestyalCruises.com.