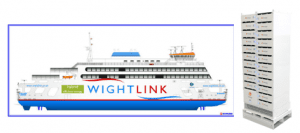 Corvus Energy's next generation Orca ESS has been selected by Wärtsilä for a new hybrid ferry being built for Wightlink Ferries of the UK
Richmond, B.C. – September 26, 2016 – Corvus Energy Inc. is pleased to announce that Wärtsilä, the world's leading provider of ship machinery, propulsion and maneuvering solutions, has selected Corvus Energy as the supplier of the lithium ion based energy storage system (ESS) for a new hybrid ferry being built for UK based Wightlink Ferries. Corvus Energy will supply its next generation Orca Energy ESS solution to compliment a comprehensive range of modern Wärtsilä equipment and systems, which will deliver industry leading environmental efficiency with this new vessel.
The new ferry, entering into service in 2018, will serve the crossing between the Isle of Wight and the English mainland 20 times per day, holding up to 178 vehicles and over 1000 passengers. Utilizing Corvus Energy's Orca ESS solution for the hybrid power and propulsion systems will improve efficiency, reduce the exhaust emissions and lower noise levels, making it the most environmentally friendly vessel in the fleet, and the new flagship ferry for Wightlink.
Orca Energy is part of the Orca ESS product line from Corvus Energy which is specifically designed for maritime applications.
"This new environmentally friendly ferry represents our third major vessel project with Wärtsilä and we are pleased that the industry leading innovation in safety, reliability and performance of Orca ESS is being recognized as the future of hybrid marine power," said Halvard Hauso, EVP Sales & Marketing of Corvus Energy based in Bergen Norway. "Orca is not only the industry's safest and highest performing maritime ESS, it also makes great environmental and economic sense."
As the leading manufacturer of energy storage systems for maritime applications, Corvus Energy designed and built the Orca ESS solutions portfolio based on the experience from 50+ projects utilizing a Corvus Energy ESS, totaling over 35MWh and 1 million operating hours. Rather than a single product, the Orca ESS product line delivers a range of products which are designed to meet the needs of various marine customers. Orca Energy is ideal for applications that require large amounts of energy such as ferries and merchant vessels, while Orca Power has been designed for applications that require a seamless response to dynamic power loads such as offshore supply vessels and port equipment.
About Corvus Energy
Corvus Energy provides high power energy storage in the form of modular lithium ion battery systems. Its purpose-built, field-proven battery systems provide sustained power to hybrid and fully electric heavy industrial equipment, including large marine propulsion drives. For more information, please visit:  www.corvusenergy.com.