Accuritas recognized for helping global shipping leaders to adapt, modernize and transform into data driven businesses in the age of big data
HOPEWELL JUNCTION, NY, (PRNewswire) September 26, 2016 – Accuritas Global Solutions ("Accuritas") was named as a finalist for the 2016 Lloyd's List Intelligence Global Big Data Award, one of the most respected awards within the international shipping and maritime industry. Accuritas was chosen and recognized for its work, innovation, and achievements globally in the maritime industry specifically in the areas of big data, analytics, data management, and business intelligence.
The Lloyd's List Global Awards showcase and reward the best talent and achievements in shipping over the last year. The awards are a vibrant celebration of the key players in global shipping and are recognized worldwide as a significant mark of success. The big data award recognizes companies that have influenced the worldwide shipping industry in the last year with demonstrated examples of innovation drawn from big data and applied to the benefit of shipping. Accuritas joins a distinguished list of award finalists and shipping industry leaders including AkzoNobel's Marine Coating's Business International, ClassNK , ClearMetal, CMA CGM, DNV GL, Quintiq and Totem Plus.
"We are pleased and honored that Accuritas has been recognized as a finalist for this very prestigious global award," said Jess Hurwitz, Accuritas' Executive Vice President of Global Sales and Marketing and CTO. "This recognition is a true testament to our success in bringing innovative data solutions to the global shipping industry. We are proud and passionate to be helping one of the world's most important industries gain momentum and velocity while building a solid foundation for an exciting future working with big data solutions and initiatives. Our role in helping companies improve their efficiency and cost effectiveness has contributed to their sustainability."
"Accuritas shares this recognition with our esteemed clients who inspire us each and every day to find new and innovative approaches to assist them with complex daily operational challenges and newly emerging data challenges," said Jeff Wimmer, CEO of Accuritas Global Solutions. "We look forward to helping our clients achieve new levels of success and to navigate safely through challenging times."
This is the first time Accuritas has been named a finalist for a Lloyd's List Global Award. The winners of the 2016 Lloyd's List Global Awards will be announced at a prestigious ceremony at the National Maritime Museum in London on Wednesday, September 28, 2016. Accuritas was previously recognized and honored as a finalist in the Big Data and Technical Innovation award categories in the 2016, 2015 and 2014 Lloyd's List North American Maritime Awards.
Accuritas Global Solutions is one of the first worldwide companies to specialize in providing global shipping leaders with customized big data solutions, analytics, and business intelligence for all aspects of their business. Accuritas works closely with each client, no matter what stage they are currently at, to begin taking steps to achieve short term results and initiate change while focusing on their eventual long-term 'Big Data' goals. Clients range in size from 1 to 300+ vessels and are spread across all stages of data implementation: manual old-style processes, multi-vendor integrations, hybrid data solutions, and in-house developed systems and applications. Accuritas doesn't change the way its clients do business; they simply help them to do things in a better way while increasing flexibility, agility, adaptability and competitiveness in challenging and constantly evolving markets. The goal is always to improve and expand the flow and alignment of intelligence within each client helping them to make better decisions, be more competitive, increase profits and seize new opportunities.
For more information, please visit: www.accuritas.com or contact us by email at: info@accuritas.com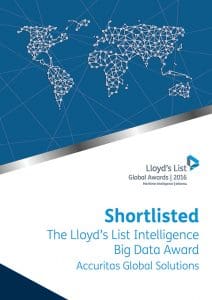 About Accuritas Global Solutions
Accuritas Global Solutions is a privately held global management consulting firm that provides customized business intelligence, analytics, big data solutions, weather and consulting services to global transportation leaders to support sound, data driven business decisions. With unparalleled client support, Accuritas is management's partner in accurate performance monitoring, efficiency planning, risk management, change engineering, data management and decision assistance. Accuritas delivers a wide range of customized services and solutions to 100+ clients from over 60 countries worldwide. Accuritas supports the Transportation, Energy, Maritime, Freight and Logistics Industries. Most clients to date have been within the commercial shipping industry and include shipowners, operators, pool managers, and time charterers. Founded in 1969, with over 47 years of experience, Accuritas is headquartered in New York and has offices in Connecticut, Athens and Singapore.
For more information, go to www.accuritas.com , email: info@accuritas.com  or call:
+1-845.226.8400 (US), +30 2107454628 (Greece) or +65 65497230 (Singapore)