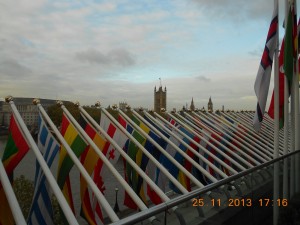 A coalition of shipowners and operators, logistics businesses, suppliers to the maritime industry, industry associations, and NGOs want a "clear, ambitious long-term objective" for shipping emissions to be set at MEPC 70
LONDON – OCTOBER 20, 2016
 – The Danish Shipowners' Association, Royal Belgian Shipowners' Association, Maersk, Scandlines, J. Lauritzen, Unifeeder, and 45 other businesses and organisations across the shipping and marine industry are calling for the International Maritime Organization (IMO) to act on shipping emissions at the 70th meeting of its Marine Environmental Protection Committee (MEPC) next week.171 heads of state of the member countries of the IMO have received a letter signed by 51 organisations from within international shipping asking for their help in securing increased environmental legislation for the industry.
There are no plans for this type of legislation currently on the table, and consideration of a global emissions cap for shipping was pushed aside as recently as 2015. The latest call made to the IMO to develop a greenhouse gas (GHG) emissions-reduction target failed to gain approval.
The letter states that it is time for the world to recognise the important role the global shipping industry must play in holding global temperatures "well below two degrees Celsius". It calls on the IMO to "match the ambition of pace of UNFCCC [the organisation responsible for COP 21]", "establish shipping's fair share of the global responsibility to address climate change", and take "ambitious actions that help drive investment in low-carbon solutions".
"Our members, shippers, and cargo owners that use sea freight to support their global businesses are under increased pressure to manage and report on their carbon intensity, including along their supply chains", said Chris Welsh, secretary general, Global Shippers Forum. "To achieve this, it is essential that effective measurement methods are in place, that shipowners have clear incentives to provide cleaner vessels, and that the industry has a clear goal on emissions. We have joined this letter to call on the IMO to recognise that fact, and move towards unambiguous action".
John Kornerup Bang, Chief Advisor Climate Change, Maersk, commented: "We will continue working to reduce CO2 emissions in the years to come, striving to reach our 60% relative reduction by 2020. But we are reaching the point where it will be more and more challenging to drive significant CO2 reductions on our own. Global regulation is therefore needed, more than ever, and it is crucial that IMO moves beyond data collection and establishes an ambitious and accelerated process to determine shipping's 'fair share' of emissions, which will allow for subsequent definitions of long term targets and market based mechanisms".
International maritime shipping, which transports 90% of global trade, emits more GHGs annually than the entire country of Germany—the nation with the sixth-highest emissions. Yet, unlike Germany, shipping is not subject to any international treaty on climate change, nor to any country-specific emissions reduction legislation, and has not set any emissions-reductions targets of its own through its UN governing body, the IMO. The IMO's GHG Emissions Report 2014 predicts emissions from the industry will rise by up to 250% by 2050.
"Transparency and environmental responsibility are key pillars of how we work at HBC Hamburg Bulk Carriers. Over our years of commitment to protecting the environment and in developing one of the most fuel-efficient fleets in the market, we have seen first-hand the scale of innovation and possibility for emissions reduction within the international shipping industry", said Capt. Stefan Bülow, Managing Director, HBC Hamburg Bulk Carriers GmbH & Co. KG. "We joined this letter to support a mature and positive attitude to the ability of the industry to reduce its emissions and create sustainability. This presents a significant opportunity to our community and with IMO's direction we can act on a level playing field and embrace it together", he said.
The Royal Belgian Shipowners' Association commented:
Ships carry large volumes over long distances, which makes them an energy-efficient transport mode. To match the ambitions of the Paris agreement, more action is required. The broader community has been debating the role of maritime transport in a more sustainable economy for many years. The Royal Belgian Shipowners Association (RBSA) has been playing its role as a facilitator in this endeavour. Why? Because, beyond simply taking responsibility for its emissions, the gradual evolution toward a CO2-neutral economy is a golden opportunity to be seized by the industry. There are still many hurdles to overcome and instead of debating what needs to be done, the time has come for all stakeholders to closely collaborate to develop a clear long-term decarbonisation strategy that will help to drive investment in low-carbon solutions. We believe that this letter calls on IMO to advance this endeavour.
In 1997, the Kyoto Protocol handed responsibility for limiting and reducing international shipping emissions to the UN specialized agency responsible for regulating these sectors—the IMO. The IMO does require all vessels to prepare and hold a Ship Energy Efficiency Plan, or SEEMP, document, but there are no targets or requirements associated with that document. In addition, an IMO-imposed design-efficiency standard for new ships took effect in 2013. However, it will take a generation to affect the global fleet, and its stringency and effectiveness are in question.
The full list of signatories is:
Shipowners and operators
Cargill
Hamburg Bulk Carriers
Hammonia Reederei
Maersk
Nordic Tankers
Scandlines
Unifeeder
J. Lauritzen
Torvald Klaveness
U-Ming Marine
Reederei Nord
Service Providers
C. A. Goudey & Associates New Ocean Solutions
Clean Marine Energy
GAC
Marcura
Mariko
Ocean Freight Exchange
RightShip
Robin Meech – Marine & Energy Consulting
Shipamax
Titan LNG
Vanmarc Shipping Limited Company
Technology Providers
Wartsila
AkzoNobel
Danelec Marine
NAPA
EpicGas
Norsepower
GoodFuels
Eco Marine Power
Magnuss
Industry Associations
BICEPS Network
Global Shippers Forum
Danish Shipowners Association
Danish Maritime
Royal Belgian Shipowners Association
International Windship Association
Smart Green Shipping Alliance
NCE Maritime Clean Tech
OAS Inter-American Committee on Ports Secretariat
NGOs
Rocky Mountain Institute-Carbon War Room
Clean Shipping Index
Green Marine
North Sea Foundation
Sustainable Shipping Initiative
The Ocean Foundation
Peace Boat
Others
Nor-Shipping
Polar Star Films
Port Metro Vancouver
Port of Prince Rupert