To be built in the USA under Damen's Technical Cooperation programme
Leading marine transportation provider and the USA's largest operator of OSVs, Edison Chouest Offshore (ECO), has teamed up with Damen to build a total of 13 heavy duty mooring assistance and escort tugs. These will be deployed on two major maritime projects for which ECO has recently won contracts, based in part on the use of well-proven Damen tug designs. The vessels will be built using ECO's highly regarded network of five shipyards and Damen's support and expertise.
The first of these is a contract that ECO won earlier this year with a new Corpus Christi based LNG export terminal. The agreement is for the supply of four escort tugs with a bollard pull of 80 tonnes, to operate at this new LNG terminal in Texas, which is currently under construction. The Damen tugs will be of the well proven escort/mooring ASD 3212 design.
More recently, ECO has won a high profile, long term contract in Alaska. ECO is taking over the ship escort-response duties out of Valdez, Prince William Sound, from July 2018, for which it will require nine, high-powered escort tugs. For this highly environmentally-sensitive project, Damen and ECO will work together to deliver four more ASD 3212 tugs with a bollard pull of 70 tonnes each and five of the most powerful ASD tugs ever built; the ASD 4517 with a bollard pull of 150+ tonnes, is a joint Damen and ECO developed escort tug specifically designed for the sometimes challenging weather conditions in the Prince William Sound.
"Chouest was pleased to have this opportunity to take Damen's proven hull design and helped create a new, state-of-the-art escort design representing the most powerful ASD tug ever designed or built," said Gary Chouest, President/CEO of Edison Chouest Offshore.
In total ECO is now investing in the construction of a total of 13 Damen-designed tugs at its shipyards.
In what is a difficult period for the maritime industry, ECO and Damen have teamed up to ensure that the most capable and technologically-advanced tugs are available to meet the needs of both of these challenging, but exciting projects.
The contract has been handled by Damen's new Area Support office in Houston, which opened on 1 August 2016. Jan van Hogerwou, General Manager New Construction Damen Area Support North America, is delighted to be able to announce this latest success for the Damen Shipyards Group in the United States. "Within just three months Damen has won orders for the construction of 27 tugs at four different US Shipyards, and we have only just begun!"
Damen Shipyards Group
Damen Shipyards Group operates 32 shipbuilding and repair yards, employing 9,000 people worldwide. Damen has delivered more than 6,000 vessels in more than 100 countries and delivers some 180 vessels annually to customers worldwide. Based on its unique, standardised ship-design concept Damen is able to guarantee consistent quality.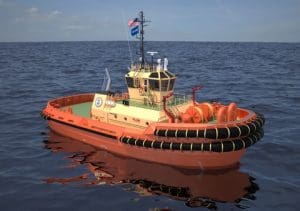 Damen's focus on standardisation, modular construction and keeping vessels in stock leads to short delivery times, low 'total cost of ownership', high resale values and reliable performance. Furthermore, Damen vessels are based on thorough R&D and proven technology.
Damen offers a wide range of products, including tugs, workboats, naval and patrol vessels, high speed craft, cargo vessels, dredgers, vessels for the offshore industry, ferries, pontoons and superyachts.
For nearly all vessel types Damen offers a broad range of services, including maintenance, spare parts delivery, training and the transfer of (shipbuilding) know-how. Damen also offers a variety of marine components, such as nozzles, rudders, anchors, anchor chains and steel works.
In addition to ship design and shipbuilding, Damen Shiprepair & Conversion has a worldwide network of 16 repair and conversion yards with dry docks ranging up to 420 x 80 metres. Conversion projects range from adapting vessels to today's requirements and regulations to the complete conversion of large offshore structures. DSC completes around 1,500 repair and maintenance jobs annually.