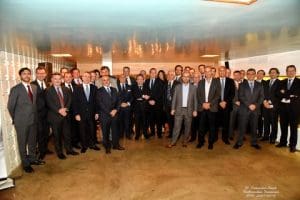 RINA Hellenic Committee hosted several leaders within the Greek shipping community on the 8th of November, to discussed important industry issues.
Spyridon Zolotas, RINA's Area Manager for Greece and Cyprus, in his introduction thanked the Members for their valuable support and outlined the company's new plans to strengthen its presence in the Greek Shipping market through the introduction of an extensive new range of customer services.
Committee chairman George Youroukos, Owner of Technomar Shipping Inc., addressed the assembly highlighting the classification success and growth experienced in 2016. But with success come challenges which have required RINA to further enhance its customer services. Mr Youroukos explained, to the distinguished audience, that RINA is already strengthening the highly acclaimed Piraeus Marine Technical Support Centre and is now focusing on a customer service improvement programme.
Mr. Youroukos together with other committee members emphasized the benefits of RINA Class Decision Support System called InfoSHIP EGO. This software is designed specifically for today's modern vessels and optimizes the performance of a vessel while providing real time performance data and reporting.
Ugo Salerno, Chairman & CEO of the RINA Group presented to the members of the Committee the latest news from the company, this included details of some significant acquisitions which were concluded earlier this year.  In addition, he gave an overview of the market related to oil and gas prices, providing substantial "food for thought" which stimulated some interesting discussions among committee members.
Michele Francioni, CEO of RINA Services, updated those present detailing, within a global context, the most important issues facing the Marine Industry today. He outlined the pressures and opportunities that the industry is facing on a global scale, triggered by the developments related to MARPOL, BWMC and the Hong Kong Convention. In addition, Mr Francioni looked as the industry's midterm prospects particularly relating to Big Data, Cyber Security, Additive Manufacturing and E-Navigation.
Paolo Moretti, General Manager Marine RINA Services, emphasized the catalyst role that RINA is playing in encouraging innovative technologies, namely the classification of 4 new LNG fuelled 183.200GT Cruise Ships. Furthermore, Mr. Moretti explained how RINA is focusing its investment according to the needs of its customers. A great example of this strategy being the further development of the performance optimizing platform, InfoShip EGO.
Considering the recent IMO MEPC 70th Session results, it was an appropriate time to inform members and focus on the BWM Convention and Ballast Water Treatment Systems.
In that respect, Michael Markogiannis, Manager of RINA Piraeus Plan Approval & Technical Support Center, elaborated on those relevant issues from a Classification point of view, while three different BWTS system manufacturers (Alfa Laval, Wartsila and Erma First) presented their own systems and perspective.
RINA Services S.p.A. is the RINA company active in classification, certification, inspection and testing services.