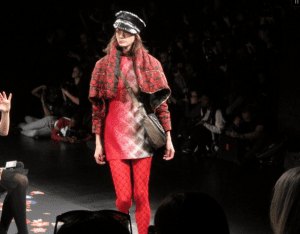 The FW17 shows – as always – started with Nicholas K who gave their own version of the artistic French style accented with metallics, berets, and signature draping. Red and black were among the main color choices. I loved the one-shoulder tunic, the leather jackets, and the rap music playing during the show.
Desigual is always a big show endorsing mix & match, layering, and cultural references. For FW17, they talk about dance, music, the British late 60s, the American early 80s, the Spanish New Wave, and the Californian rock scene adding punkish details such as rips & tears, plaid, leather, lace, and denim. The collection is inspired by the GTOs (check Girls Together Outrageously).
Erin Fetherston was this time 'In Pursuit of Rapsody' sending down the runway fringed and billowy dresses characterized by romanticism, soft tailoring and a cosmopolitan spirit. Her seasonal palette includes burgundy, indigo, saffron, olive, and rose. There were some cool Indian-inspired prints, velvet numbers, streaks of gold on silk chiffon and jacquards. I noticed the velvet jacket being layered over a tiered frill evening gown. Perfect styling!
Adeam at the High Line Hotel was gorgeous and strong, with furry accents, asymmetries, and contrasts. I loved the jackets and the one-shoulder contrast-trim jumpsuit. Snow was covering the streets, yet I was thrilled to attend! Frills infused the looks with girliness!
Michael Costello was impressive too, this time a really big show. An oversized pink teddy bear was sitting with us front row, yet it couldn't distract us from the runway looks, accented with big hair, hats, lots of white and sequins. Charlotte Welch did amazing job in styling the show!
Love! xx
Elena Sendona
Viewers can read the full report and see all pictures here