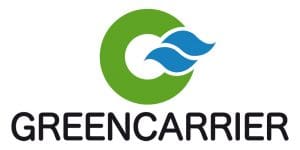 Greencarrier Freight Services, one of the Nordic region's largest privately owned companies specialising in global transport solutions, has appointed Johan Jemdahl as CEO.
Mr Jemdahl, aged 50, has wide experience in production and supply chain management around the world and was most recently MD for Ericsson in Nigeria. He has been on Greencarrier's board of directors for the last four years.
Stefan Björk, Chairman of the Greencarrier board, says: "I am very pleased that Johan has returned to Sweden to take on this role. He has been in the team defining our strategy for several years and he knows us and shares our values and mindset.
"Johan's previous experiences as both supply chain manager and as MD will be of great benefit to us. He also knows our business and industry from the customer perspective and I think that is another great asset."
Greencarrier Freight Services has been growing steadily and now employs 625 people in 13 countries. It offers the full range of freight forwarding and logistics services, and has also identified project forwarding and the energy industry as two of its main target areas for growth.
Mr Jemdahl says: "I am delighted to be the new CEO of Greencarrier and look forward to working with such a great team of people to continue finding the best logistics solutions for all our customers all around the world."