On April 5th, twenty-four global experts discussed the environmental regulatory developments concerning the shipping industry, especially regarding the 0.5% Global Sulphur Cap, shipping emissions MRV and BWMC implementation at the 2017 GREEN4SEA Conference & Awards. The event took place at the Eugenides Foundation, in Athens, attracting 800 delegates from 18 countries representing a total of 370 organizations.
The event organized by GREEN4SEA and sponsored by DuPont, ERMA FIRST ESK Engineering, Wärtsilä as the lead sponsors and SKAI in the media for the event coverage. Other sponsors included:  ABB, ABS, Alfa Laval, American P&I Club, Arcadia Shipmanagement, Bluesoul,  Bureau Veritas, Consolidated Marine Management, DNV GL, Dorian LPG, Ecospray Technologies, EPE, Lloyd's Register, MacGregor, OCEANKING, OceanSaver, PwC, RightShip, RISK4SEA, SQE MARINE, UK P&I Club and Verifavia Shipping.
During his welcome address Apostolos Belokas, Founder and Managing Editor of GREEN4SEA and also Chairman of the Conference, outlined the objectives of this event, including fostering sustainability andpromoting best practices for a greener shipping industry. Speakers' presentations then followed which weregiven in six panels and ended up with panel discussion with the audience.
Panel No. 1 – Green Shipping Perspectives
Stamatis Fradelos, Principal Engineer, Operational & Environmental Performance (OEP), ABS, provided briefly the current "Environmental Legislation Outlook" concerning the BWM Convention, the unsettled implementation scheme and the USCG requirements including the type approval program and the recently revised extensions policy; the establishment of the North Sea area (including the English Channel) and the Baltic Sea area as new NOx Emission Control Areas; the decision on the applicability of global sulphur cap 0.5% after 1 January 2020; the EU Ship Recycling Regulation; the attained and required EEDI; and the monitoring and reporting requirements and implementation dates for the EU MRV and the IMO data collection system.
Dimitris Heliotis, COO & Technical Director, Target Group & VP, MARTECMA, addressed the "Forthcoming Legislation Implementation Challenges'' that ship operators are currently facing including the undertaking of ballast water installation modification on existing ships which will be a major modification to the fleets over the next five years. Similarly, MRV as an instrument will device the mechanism via which shipping will contribute its fair share on emissions control. Mr. Heliotis referred to the emissions sulphur cap for 2020 which is expected to bring a huge uncertainty in the quality of the available fuels at the time of implementation and finally to scrubber technology which is ready to be applied as an alternative solution. Mr. Heliotis also highlighted that an extra highly trained crew team will be needed and concluded that it is vital for operators to carefully select and plan all the new regulatory outfits with ample time, allowing initial shortcomings and failures to take their time in order to establish a learning curve for the industry.
Panos Zachariadis, Technical Director, Atlantic Bulk Carriers Management, gave a presentation entitled "Ship Energy Efficiency Indicators: Fake News'' in which he showed that the so called Ship Energy Efficiency Indicators, either design or operational ones, such as EEDI, EEOI, EVI, CSI, EVDI, ESI and the like, have no connection whatsoever to a ship's actual fuel efficiency. Mr. Zachariadis commented that relying on such indicators to judge a ship's fuel efficiency is nonsensical because in most cases they favor the fuel-thirsty ships. He suggested that the only real efficiency indicator is the charter-guaranteed speed and fuel consumption data.
David Nichol, Regional Loss Prevention Executive, Thomas Miller P&I (Europe) Ltd, gave a presentation regarding the "Pollution Prevention and Mitigation" and explained how The UK P&I Club Risk Assessment Scheme works towards that end. The scheme has at its core a team of experienced master mariners and chief engineers visiting hundreds of entered vessels at strategic ports around the world annually. These risk assessments focus on the cause of P&I claims and provide suggestions for improving on board preventative and recovery controls for specific hazard areas, including marine pollution. Mr. Nichol provided a brief overview of the scheme and showcased well illustrated examples of good ship board practice and common failures relating to pollution prevention.
Panel No.2 – Towards a Greener Future
Henning Gramann, Chairman, IHMA, talked about the "Inventory of Hazardous Materials: Current status & best practice". Mr. Gramann noted that the new legal requirements for Recycling of Ships have become a pressing issue for all ships, no matter if brand new or very old. A key requirement all for EU-registered and all EU-visiting ships above 500GT is to have a certified Inventory of Hazardous Materials (IHM) onboard until end of 2020. Approx. 30,000 ships are affected and time for IHM-development is short. During his presentation, Mr. Gramann gave insights into IHM development for new and existing ships, related capacity issues and how IHMA supports shipowners to meet the tight deadline.
Fotis Ploumitsakos, Naval Architect & Mechanical Engineer, EPE, gave a presentation entitled "Inventory of Hazardous Materials: From theory to practice''. Mr. Ploumitsakos underlined the obligation for an IHM onboard all vessels with EU flags and those which visit EU ports according to the EU Ship recycling regulation 1257/2103. He referred to the practical parameters on the preparation of an IHM in order to be considered sufficient and also to the required qualifications and credentials for the HazMat Experts who are responsible to prepare it on behalf of ship operators. 
Roberto Bernacchi, Shore-to-ship power & Smart Ports Global Product Manager, ABB, gave a presentation regarding the "Shore-to-Ship power applications". As he explained, commercial ports are complex systems where goods and passenger traffic must be managed efficiently and in a sustainable way: all ports stakeholders, and amongst those terminal operators, shipowners and authorities, shall cooperate to achieve the lowest environmental impact, in order to be a role model for the communities in which they operate. In view of the above, Mr. Bernacchi highlighted that the top priorities for ports are the management of air quality, energy efficiency and noise management. Therefore, he said, the answer to those basic needs comes with port electrification and supplying vessels with shore power during their stay at berth.
Sotiris Raptis, Senior Policy Advisor for Environment and Safety, EcoPorts Coordinator, ESPO, referred to the "Sustainable policies of EU ports" at his presentation focusing on EcoPorts contribution. Mr. Raptis noted that EcoPorts has become the main environmental initiative of the European port sector to address current environmental challenges. It has provided a system developed by ports, for ports, specifically designed to put ESPO's policies into practice by encouraging the free exchange of experience on environmental issues among its members. The overarching aim of EcoPorts is to increase awareness about environmental challenges, deliver compliance with legislation and to demonstrate a high standard of environmental management. He notified delegates that EcoPorts helps European ports be at the frontline taking initiatives to protect the environment, improve public health and address the challenges of climate change.

Panel No.3 – Challenges for the 2020 and beyond
Poul Woodall, Director Environment & Sustainability, DFDS A/S, presented "An operator's concern about 0.5% sulphur cap from 2020". Mr. Woodall shared DFDS views on the challenges ahead now that IMO has decided that the 0.5% Global Sulphur Cap will be effective in three years. Among the important issues for consideration will be the quantity, quality and cost of existing fuels in 2020, the logistics, the scrubber uptake and the refinery dilemma. At his presentation, Mr. Woodall highlighted that industry needs to gain experience feedback from the SECA implementation and look out for emerging issues, to ensure compliance in the most cost-efficient way.
Steve Esau, General Manager, SEA\LNG, focused on "The case of LNG as a fuel" and presented the scope of SEA\LNG multi-sector industry coalition. Mr. Esau explained that the coalition created with the aim to accelerate the widespread adoption of LNG as a marine fuel and to highlight the viability of and demand for LNG across the maritime value chain, creating the necessary confidence between each link. SEA\LNG focuses on addressing the commercial barriers to LNG, particularly in the deep-sea shipping segment. SEA\LNG brings together key players from across the supply chain, including shipping companies, classification societies, ports, major LNG suppliers, downstream companies, infrastructure providers and OEMs to address market barriers and transform the use of LNG as a marine fuel.
Franco Porcellacchia, Vice President, Ship Refit, Carnival Corporate, gave a presentation entitled "EGCSs and LNG ships" in which he illustrated Carnival's plan installation of LNG solutions and its experience acquired by installing Exhaust Gas Cleaning Systems. Both solutions were examined and compared considering the environmental and economic aspects and related features. In addition, Mr. Porcellacchia provided a recap of the current program of the Carnival EGCSs installation and some technical highlights. 
Panayiotis Mitrou, Marine & Offshore Technology & Innovation Manager, Lloyd's Register, gave a presentation entitled "Low Carbon Pathways – The 2020 Challenge and alternative fuels". Mr. Mitrou noted that if shipping has a higher cost of decarbonisation than other sectors of the economy, it may be possible to offset some of shipping's CO2 emissions by purchasing offsets from other sectors. He referred to major projects concerning the LNG as a fuel such as Poseidon Med II in which LR actively participates in setting a roadmap to LNG bunkering operations in East Mediterranean Sea. He concluded that futureproofing cannot be guaranteed, however, decabornisation is the mother of all challenges. Also, he advised not to think only about short-term but also beyond 2020.
Panel No.4 – Exhaust Gas Cleaning Systems Maker's Panel
Marco  Dierico, Marine Business Development EMEA, DuPont, discussed how to "Burn the most affordable fuel". Considering the forthcoming regulations and the real short pay-back time for newbuilds applications, Mr. Dierico said that the marine scrubbers can provide the industry with a mature technology limiting the constraints and the availability uncertainties of sourcing the 0,5% sulphur fuel. Scrubbers will be the bridge to an LNG future fleet in 2030, he stated. Also, yards are providing scrubber ready designed ships incorporating our scrubber system to limit the associated installation and re-design costs.
Ole-Johan Øby Svendsen, Sales Manager, Wärtsilä Exhaust Gas Cleaning, presented means of meeting SOx emission compliance, including alternative technology. Mr. Svendsen referred to his company portfolio which includes inline and venturi type scrubbers, system configurations including open loop, closed loop and hybrid systems.  He also presented a case study of OPEX, CAPEX and payback time for open loop, closed loop and hybrid as well as some selected reference projects along with the main figures of the reference list.
Marcello Vercellino, Sales Manager Marine Division, Ecospray Technologies, gave his advice on "Meeting environmental goals with innovation and experience in installing EGCS". His presentation focused on innovation and knowledge gained from long lasting experience in the installation of EGCSs to meet the environmental commitments. In particular, Mr. Vercellino highlighted the additional benefits coming from the continuous development of EGCS software and automation, and from operators training.
Andrés Gómez, Global Market Director, Shanghai BlueSoul Environmental Technology Co. Ltd , focused on "IMO Sulphur Cap". He stressed that time matters more than ever, considering that SOx emissions reduction is a reality and the environment will notice the benefits soon. His company was the first of its kind for a scrubber to receive AiP according to the new DNV GL rule set and the first for a Chinese scrubber manufacturer.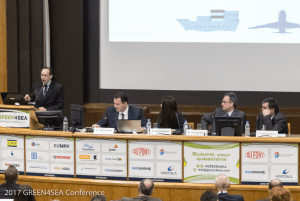 Panel No.5 – Ship Emissions Monitoring, Reporting & Verification
 Helena Athousaki, Head of Maritime Sustainability Centre, PwC, presented the "EU MRV & proposed ETS legislation challenges". She stated that considering shipping is responsible for the carriage of about 90% of the world trade, by sense it is a responsible sector. Although the industry is accountable for a small percentage of CO2 emissions and IMO developments aiming for a single solution, EU proceeds with regional measures. Starting this year with EU MRV regulation followed by a strong pressure for the sector's inclusion in EU ETS, Mrs. Athoussaki noted that shipping will face some significant challenges in the future, both operationally and financially. Moreover, environmental regulations and current market conditions pave the way for companies to look beyond compliance and prepare with a long view strategy in order to sustain their business.
Kostas Vlachos, Chief Operating Officer, Consolidated Marine Management Inc., addressed the "Challenges on the implementation of the EU MRV" from the Ship Manager Perspective. Mr. Vlachos focused on the preparation of the Monitoring Plan and suggested that a Risk based approach is certainly required. He further presented the required Data Flow Activities for the control of data and referred to issues concerning the Quality assurance and Reliability of IT along with the required Internal Reviews and Validation of data.
John Kokarakis, Vice President Technology & Business Development Hellenic, Black Sea Region & Middle East, Bureau Veritas, presented the "Challenges in the implementation of IMO and EU/MRV Regulation". Dr. Kokarakis noted that the IMO system is simpler and efforts are performed to get some elements from the EU/MRV in order to reach harmonization. For example, issues like uncertainty of monitoring methods are not mentioned. The IMO system does not include publication of fuel consumption data under the name of ship and its publication will be anonymous whereas the EU/MRV is based on publication under the ship name. He also addressed the challenges concerning the proper preparation for the MRV.
Nikolas Theodorou, Managing Director, Verifavia Shipping Hellas, focused on the "EU MRV implementation" and explained the process of creating and approving a Monitoring Plan. He reminded that the Monitoring Plan is a mandatory requirement according to Article 6 of the EU MRV Regulation, which must be submitted to an independent accredited verifier before 31st Aug 2017 for assessment. The plan compiles all information on how the ship's MRV system works and must be complete, accurate, relevant and compliant. Mr. Theodorou said that Verifavia Shipping is now offering a free use "Extranet" to facilitate for a straightforward, accurate, seamless and smooth Assessment experience.
Panel No.6 – Ballast Water Management
Dimitris Dedepsidis, Customer Service Manager, DNV GL, covered "Challenges in the forthcoming implementation of the BWMC". He mentioned that this July at IMO MEPC 71 two alternatives will be discussed for the IOPP: the existing one (Compliance with D-2 at the first IOPP renewal survey after 8 Sept 2017) or a new proposed including a new compliance date to be set at the first IOPP renewal survey completed after 8 Sept 2017. He also noted that BWM is no longer an ad-hoc operation. It is essential that the Master, BWM officer and crew have an understanding of  BWM. Therefore, personnel need to be well trained and assigned key responsibilities and ballasting operations should be planned.
Kristina Effler, Global Business Manager, PureBallast, Alfa Laval, said that "Pure confidence is a must for the future'' and presented the existing legislative uncertainties concerning the Ballast Water Management Convention. On the one hand, the MPN method is still under discussion in the US. On the other hand, there are no regulated limits for disinfection by-products generated. Mrs. Effler noted that there is no clear route ahead as only three systems have acquired USCG approval so far. Therefore, it remains to see what will happen next until the implementation date. She referred to the challenges ahead and advised lesson learned: invest time in the project; identify the needs of your fleet; commit for the long term and; look closely at total cost of ownership.
Kashif Javaid , Sales Manager, OceanSaver, provided feedback from his BWMT which is the first electrochlorination system to obtain final USCG type approval certificate with no restriction regarding holding time, temperature, flow-rate and water quality. Mr.  Javaid said that his company patented cell membrane electrodialylsis technology continuous to provide distinctive advantages. He advised operators to initiate retrofitting projects 8-10 months prior of expected DD in order to ensure smooth project handling.
Craig Patrick, Sales Director, Wartsila Water Systems Ltd, provided his feedback at the BWMS highlighting that serious volumes of equipment will have to be consumed by the industry due to the increased demand in the future. He also said that high ballast dependent vessels tend to choose EC technology, whereas low ballast dependent vessels choose UV. Important consideration is to offer flexibility and phases to the owner / manager operators. Normally there is not one only need – but a combination of equipment and services to satisfy customers' needs. He further said that his company offers online training for both technologies so that the crew understands how the equipment works.
In the event closing, Mr. Apostolos Belokas, Chairman, thanked the delegates for their participation, the sponsors for their support and the speakers for their excellent presentations and also the organizing team of the event for their contribution towards forum objectives. Mr Belokas also congratulated all winners and short-listed nominees of the 2017 GREEN4SEA Awards for their contribution to a greener industry.